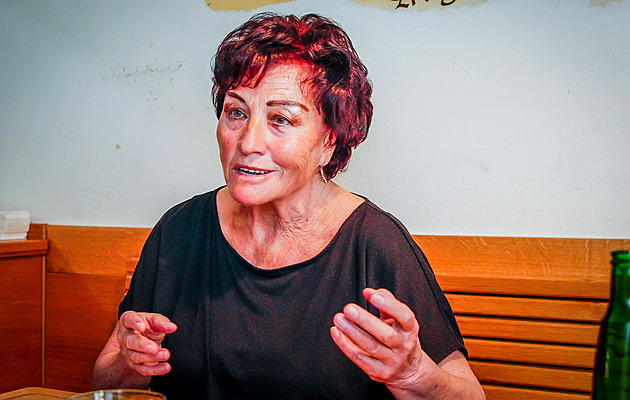 Eva Šmausová means swimming in a regional town. And the reverse is also true. A special lady has been training for over 50 years. When you arrive at the pool, you still have a good chance of hearing her charge.
"I have a pretty rich voice, and when I speak, I can be heard all over the pool," Smaus smiles.
Her mother went to Sokol to practice, her father played football, so she was naturally related to sports. "We went swimming in Bezdrev once. I fell from the boat into the water and at that time she could not swim yet. Our people then dragged me to the swimming pool to learn it, "he describes.
And she stayed by the water all her life. "I grew up in an old swimming pool. Then it was something completely different than today. One hundred crawls per minute and 16 seconds, that was the county record. I managed a hundred breasts in 1:44, which was a pretty good time back then. Today, the students would not even make it to the national championship, "he compares.
He has a few medals in his collection
In addition to the level of performance, the conditions have completely changed. "We had to clean and whitewash the pool ourselves, prepare everything. When there was no water in it, coach Hruška drove us into the river, "he claims.
Swimming several decades ago and today perhaps only water connects. "At that time we jumped from the old swimming pool into the river. Today, for safety reasons, almost nothing can be done, everything needs paper. Our children, who swim daily, can only go down the toboggan after the permission of lifeguards for a fee. Fortunately, the management of the City's Sports Facilities is very accommodating to us, but it is absurd, "he says.
Eva Šmausová
(75 years)
She was born on December 18, 1946 in České Budějovice, where she lives all her life. She also graduated in the city. She has been involved in swimming for over 50 years, she learned from the Potužníky couple. She swam alone in her youth, then began training. For many years, the regional swimming association and the entire Koh-i-noor sports unit, including the swimming club, have been leading.
Šmausová enjoyed her own active career. As she says, she was not a big star, but she has several medals at home in her collection. She tried the usual training at that time, ie a number of different sports – running, basketball, in winter and figure skating.
Over time, she moved on to training. "I moved around the pool and they asked me if I would be interested in training. I never wanted it as a profession. It wasn't until two years before I retired that I was just a coach, "he explains.
And he has been educating young swimming talents for more than half a century. She has changed minimally. She remains strict and relentless. "The parents of the children are a little hypersensitive today and feel that they are just screaming here. In addition, every parent is currently the coach of everything. And so I say to them: Am I going to work for you? No, so don't get into mine, "he emphasizes.
"I know when someone's hanging out"
Some charges are even afraid of coaches. "It simply came to our notice then. Not otherwise. Of course, I can easily know when someone is hanging out. How many times have I fired someone. It happened that the parents had to go to the camp for the children at midnight, when the girls went to the rooms in the evening, "he reports.
Šmausová still likes to work with children. She likes the manners of some parents far less. "Nowadays, parents think they can handle it. When their child has bad grades, they often go to the teacher and 'agree' with her better, because the teacher prefers to back off. But the stopwatch cannot recede. It's similar when they come to our school training. Parents would rather apologize to their children than have to go to the water. And then a few years later they send them to individual courses, "he adds.
The coach has also always insisted on educating not only successful athletes, but also children for life.
"I was warned in front of a boy from Tábor that he was disobedient not to take him to the squad. I said we could handle him. And yes. He got quite far, he was a Czech national team in juniors and adults, he twice participated in the European Championships. And when he also graduated, he brought me and my colleague Sona Šestáková a large flower with a box of chocolates. He allegedly managed it thanks to swimming. We forced him to study on the train and so on, "he says.
Fight for the pool
The chairwoman of the regional swimming association and the entire TJ Koh-i-noor České Budějovice have also been struggling with space and conditions for a long time. "Imagine a football field. A team, a second puppy, a third junior and a fourth student would have one lane on it. This is how we take turns swimming with the public. We really don't have much space, "he admits.
This situation worsens every year during the holiday months, when the indoor pool is regularly closed and there is only an outdoor swimming pool.
"We have it accessible to the public or after it, after eight o'clock. And again, parents don't like that. There are few such possibilities for a city of hundreds of thousands, "he is clear.
Moreover, anyone who has ever been in the outdoor area of ​​Budějovice knows that in nice weather there is practically no movement at the swimming pool. "I leave it for the summer and go to the Little Weir," he adds.
Šmausová still enjoys training and swimming in general. "I have an excellent team of colleagues around me, with whom I like to work. These were not wasted years. I would like to manage three more years before my term ends, "he concludes.