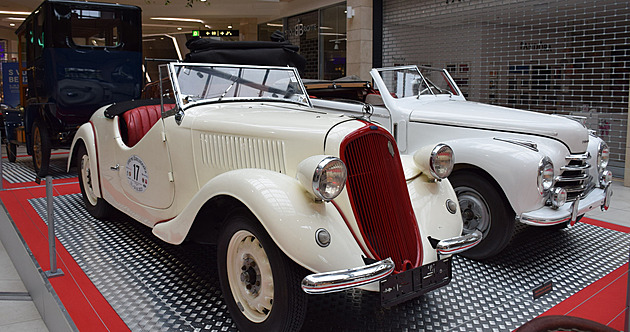 The exhibition With the Smell of Gasoline is taking place in the Šantovka Gallery in Olomouc. (May 7, 2022
| photo: Petra Černobilová,
MF TODAY

Almost two dozen machines are presented here, mostly veterans. In addition to them, the latest models can also be seen as proof of the modern development of motoring.
"The latest Škoda and Audi models are also present. Visitors can also see the evolution of the Škoda Octavia model, "said Petr Hlávka, a spokesman for the shopping center.
Veterans Laurin Klement 110 and the Škoda Octavia from 1963 score mainly among visitors to the center. "It has beautiful body shapes. Of all the cars on display, I find the most interesting. The new cars are all similar, but this is something else, you just won't try it, "Mr. Jindra and his family admired the old octave.
In addition to the exhibition, which mainly presents cars and motorcycles from the early production of Škoda and Audi, visitors to the center can also look forward to a gathering of luxury supersports. They will take place on Saturday, May 28, in front of the shopping center, and will be on display for several hours.
"Then they will set off together on a fun ride through the center of Olomouc and return to the Šantovka Gallery. Porsche, Lamborghini and Ferarri, for example, will not be missing among the twenty luxury cars, "concluded Hlávka.
The exhibition entitled "With the Smell of Gasoline" can be seen in the Šantovka Gallery until May 29.