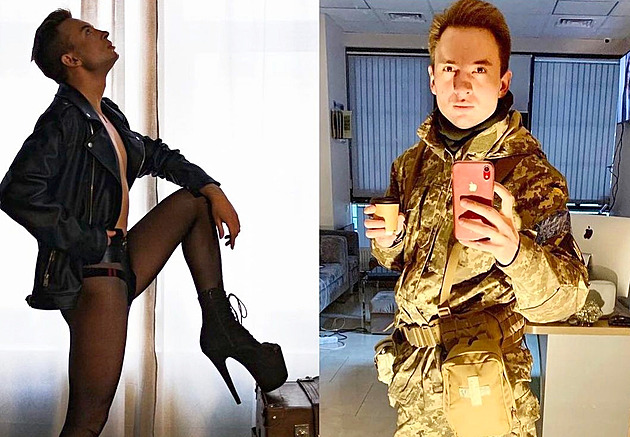 Instead of heels, the queer stylist wore a military uniform. He is afraid of losing his freedom and his life.
| photo: Instagram @ honzykivan7

The Russian regime does not hide its prejudices against the LGBTQ + community. The Ukrainians concerned are worried not only about their lives, but also about the persecution that they believe would occur in the event of a potential Russian occupation, writes Brainee.sk.
Instagram profile Ukrajine.ua shared with the caption a photo of one of the soldiers, whose life literally turned upside down in a few days. The queer outfit and heels were exchanged by stylist Vlad for a military uniform so that he could defend his country and the entire LGBTQ + community there.
"Ukrainians are defending not only our country, but also values ​​such as dignity, freedom and free speech," the photo reads.
The author also points out that many minority Ukrainians have also taken up arms for fear of possible persecution in the future. "It is known that Russia has already prepared lists of journalists, activists and gay rights defenders to either kill these people directly or send them to camps. "Everyone in the LGBTQ + community was advised to immediately delete their dating accounts, which could be traced, and also delete all conversations from applications such as WhatsApp," the profile said.
Rose, that's when you cut a prisoner's penis, the Russian soldier explained to his mother
"If Russia wins, it will mean darkness. There will be no freedom. No opportunities to be yourself, no rights for different minorities, "says Vlad Shast, a Ukrainian territorial defense volunteer, in an interview with Forbes magazine.
The non-binary Shast is twenty-six years old and is a popular queer star on the Ukrainian LGBTQ + scene. The stylist is currently using all his contacts to help the army get the things and supplies it needs.