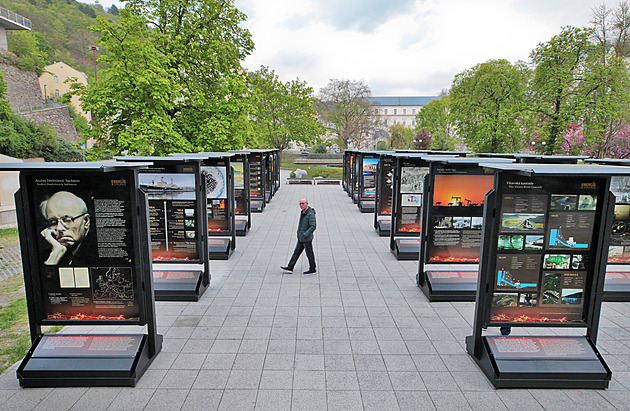 Exterior panel exhibition on the embankment at the Thermal Energie and Civilization Hotel.
| photo: Václav Šlauf,
MAFRA

A similar exhibition, but with the theme of water, took place here in the summer of 2020. The guarantor of both exhibitions is an Egyptologist Miroslav Bárta.
"Today we can see with all urgency that the issue of securing energy and resources has been, is and always will be one of the fundamental and sovereign strategic aspects of the functioning of any human society or civilization. The maximum possible self-sufficiency and sufficient resources are a limiting factor in the development, standard of living and freedom of every society, "said Bárta.
According to him, this issue is even more fundamental today, all the more so as resource control is becoming a strategic issue and can significantly disrupt the geopolitical balance of power. "The issue of securing objectively cheap energy sources is absolutely crucial for our future, and this exhibition clearly pointed this out when it was established in 2020," he added.
"Energy is ubiquitous in today's civilization, but it's not just heat, light and work. We also rely on it in mutual communication, in case of failure there is an information vacuum, telephones, receivers, data networks depend on it, "she emphasized. Andrea Pfeffer Ferklová, Mayor of Karlovy Vary. According to her, the city was one of the first to use LED sources for public lighting or to make buildings energy-efficient.
The exhibition will show the types of energies on clear diagrams and photographs. It is free to see on the hotel's embankment until 25 May. Some of the exhibited films were taken directly in Karlovy Vary or its surroundings.