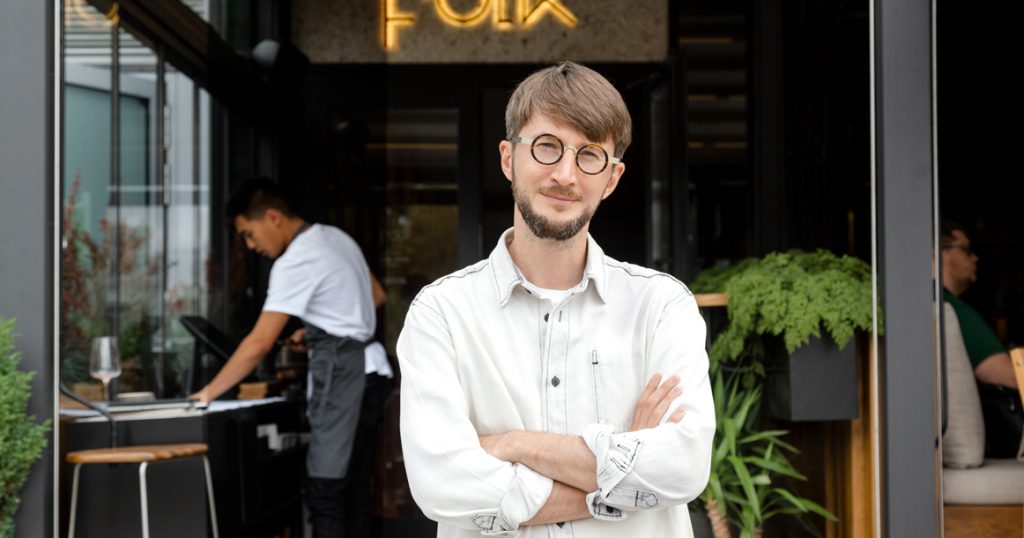 Dmitry Romanov loudly announced himself with the Folk restaurant on Tsvetnoy Boulevard and is not going to stop there. We asked the debutant restaurateur about how the urban environment determines the success of the establishment, about the restaurant life on Tsvetnoy and why Trubnaya does not become the new Bolshaya Nikitskaya.
I've been in the restaurant business all my life (I'm 36, I feel like I'm 27). He studied in his specialty, worked as a waiter, manager and manager. For the last almost five years I have been the COO of the Lucky Group, but lately I have stopped seeing my abs, I have increased my belly. Seriously, it got boring. When you don't really need to do anything new, you start to stagnate. I'm not that kind of person, I don't enjoy just sitting in one place. Then I began to notice that I was starting to fall asleep at meetings. I wanted to try something of my own. This is how Folk appeared – my first independent project, which we launched together with Anton Pinsky and Vladimir Chistyakov. Then I plan to create a company, open several restaurants with different partners and concepts.
Why did you choose Tsvetnoy Boulevard? There seems to be so many things here.
There is just a little here, when compared with the places where I worked before. Here, on the contrary, there are few restaurants, but we will change that.
Wait a minute, there are restaurants in every house!
Yes, but what? If you take Tsvetnoy, then all worthy places are in Legends of Tsvetnoy and the Neglinnaya shopping center. Trubnaya is only just beginning to change. There is a high-quality Smoke BBQ, which its owners, guys from St. Petersburg, have been rocking for several years, there is a nice Italian restaurant Maria Santa. There are many projects for young, freedom-loving people. It will be great when the aesthetics of new high-quality projects are added to this movement.
Tsvetnoy Boulevard has potential, it can become number three in Moscow after Patrikov and Nikitskaya. Kuznetsky Most could compete with it, there used to be many good guests there, but now boutiques are moving out of there and it is not entirely clear how the territory will develop. And with Tsvetnoy, on the contrary, everything is clear. There were no boutiques here, there were many banks, now they are being replaced by restaurants, projects related to services. There are still companies, departments, apartments, now there is an active construction. Here, in principle, nothing will change.
I understand that you are going to open a few more restaurants here?
If there are no cataclysms. We want to make three restaurants in line. We are building one, there were difficulties due to exchange rates and supplies, but we are close to the finish line. It will be a small, forty people, Japanese restaurant, where there will be a raw bar with good sushi and food from an open fire. Misha Samonov, a big Asian specialist, has been working on the menu for several months. Usually this is done a month before the opening of the restaurant, but here we broke the stereotype. Cool restaurant, I think it will work. The third to be added to Folk is a French bistro, which Anton Pinsky and I will do together with Anton Kovalkov and Georgy Troyan.
Is your development on Tsvetnoy limited only to Legends of Tsvetnoy?
Not only. It's just that our main line of the area, on which the restaurant can shoot. The opposite line is non-working, there is a subway, some fast foods, "Valenok", which is almost a club. And we are talking about a restaurant, we don't have a beach here, we don't have dirt. It is very profitable when people get drunk and dance, spend money, but we want a stylish, measured place. In general, I think that Folk turned out with great evening energy, it's not boring here. We have an open kitchen, a large bar counter, the guest is not just a visitor, but part of the process.
Yes, there are always a lot of people here. Do you have any recipe for a romanovski meatball?
Location, right place. Important team. The more headliners the better. People work for people. And products can be twisted in the process.
Recently I heard a conversation between two girls at the next table, one to the other says: "You know, I like this restaurant so much, it opened around the end of February. I thought they would die." We really opened on February 24, there was supposed to be a gala dinner, but it turned out to be not a celebratory one. But then we were slowly tried.
In Moscow, they "love" summer in a special way. Restaurateurs complain that revenue is sagging because everyone went on vacation, and I believe that this only happens in not very successful restaurants where something needs to be changed. I can also have a drawdown, but this means that something needs to be improved so that there is always a crowd of clients. Both in winter and in summer.
Looking at a restaurant from an urban perspective, how does the surrounding development affect your success, growth or decline?
Take Bolshaya Dmitrovka, for example. There, an alternative to the restaurant Bolshaya Nikitskaya began to take shape, but boutiques began to close, and the amount of the check immediately fell. The same Londri opened as a near-boutique restaurant, this is even spelled out in its concept. It was invented so that it would be convenient to go to this place with purchases and celebrate a successful shopping. Now, of course, the situation is no longer the same. We don't know what will happen tomorrow. If there is an insider on the development of the area, it is known where what will be built, then this may affect the business in the future. I think a lot of expensive residential neighborhoods or large LCDs will be developed. A lot of things have been built there, but not yet inhabited, and people with good incomes will live there, who will be too lazy to travel far. Now premises are already rented in such locations, but there is no audience there yet. It is clear why everyone wants to go to Nikitskaya: even a not very good project works well there at first.
Do you have a forecast of how the restaurant streets of Moscow will develop?
Bolshaya Dmitrovka will either experience stagnation or super growth. Projects that attract people by themselves still remain here, and besides, this is the center of the city. The same can be said about Neglinnaya, but with less confidence in a better future. It is more difficult there, because nothing good has yet taken root there. Now this street is coming to life, Larisa Mammadova's Champ has just opened, Denis Bobkov is going to launch a bistro with Artem Mukhin as a chef. Let's see if these guys come in, then this is a signal that something has changed. The issue is that there is no high traffic on Neglinnaya and Tsvetnoy. They don't walk here, they come here on purpose. This is especially evident in "Coffeemania", where the adult, "jacketed" audience from the surrounding offices, and the Central Market, where young people go to hang out. And they practically do not mix with each other.
Well, does Trubnaya Street have any potential? There are no boutiques, no large offices …
… and there are a lot of guys drinking beer on the benches. This is hipster territory, where inexpensive atmospheric popular projects are developing well. I prefer to play big, big rooms on the front lines, work with investments. It's hard, but I can do it.
Can you open a restaurant in the courtyard on the first line?
Well, scary. This is when you believe in yourself, you have no doubt that you can rock the place. A lot of these mistakes have been made by others, so to be honest, I'm afraid of shitting myself, so I'm being careful.
Do you think that someone will follow you to Tsvetnoy Boulevard, should we expect the formation of a restaurant street here?
We are not pioneers, everything you need has already been on Tsvetnoy. Whether we can give more momentum to this street, only time will tell.
Photo: Dima Zharov