The singer apologized for the fact that he could involuntarily hurt the feelings of believers, who found it offensive to go on stage with a fallen cross.
During his anniversary show in the Kremlin, Philip Kirkorov performed the song "Mary Magdalena". The staging of the number echoed the biblical story, the artist climbed a huge cross lying on the stage. After the show, Kirkorov received a complaint to the Prosecutor General's Office from the public organization "Society for the Development of Russian Historical Education" Tsargrad "". According to the non-leader, Andrei Razumovsky, the singer's performance looks blasphemous, expresses disrespect for Russian society and offends the religious feelings of Orthodox believers.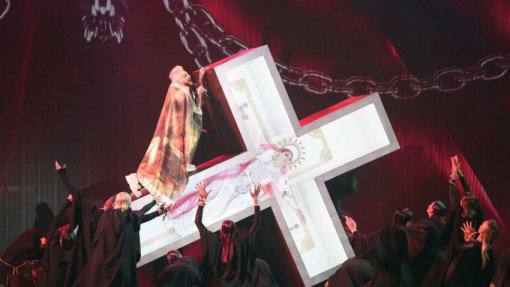 Philip Kirkorov himself also commented on the situation. He wrote that the song was originally dedicated to his mother, who tragically passed away on his birthday. And it was very important for him that his father and children saw this dedication.
"I did not put any evil or blasphemous intent into directing the song. For me, as a believer, religious saints are extremely important and revered. Everything that happened on the stage is an exclusively fantasy story, which in no way has any connection with an insult to Christianity or another religion, " Philip wrote. "Therefore, if I have forgotten someone's feelings, I offer my sincere apologies!"