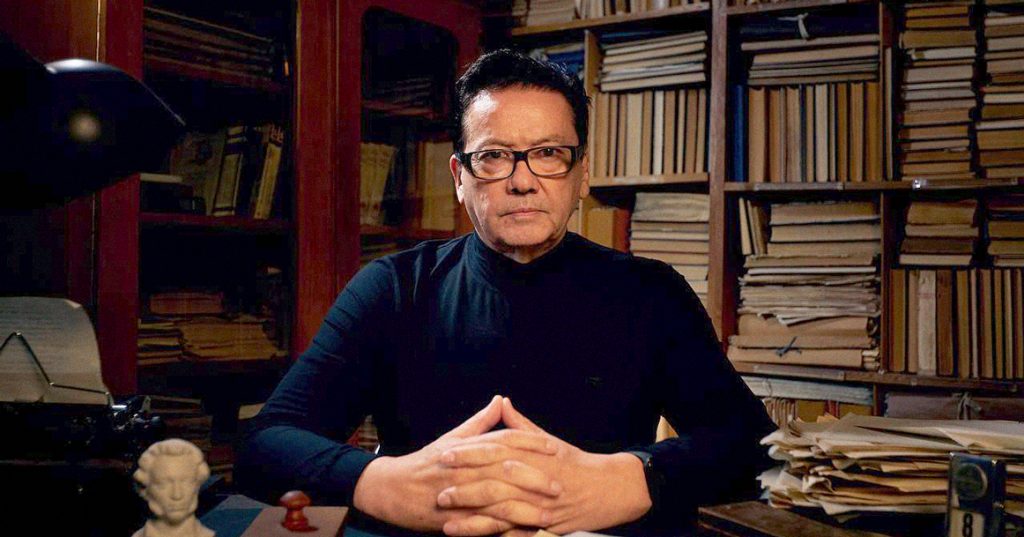 About the pub where the Moscow beau monde of disinterested people gathered in the early 1970s, about the similarities between Muscovites and Almaty residents, and about the biopic exhibition "Viktor Tsoi. The path of the hero "in the Manege.
Alma-Ata of my childhood…
Bright and warm city-garden. At the same time, the administrative and cultural capital of Kazakhstan, a cosmopolitan city, where representatives of more than a hundred nationalities of the USSR lived side by side. Everything was mixed up there: party officials, learned minds and people of art – the national intelligentsia, dissidents, exiles and migrants. It was in Alma-Ata in the 1960s that the action of our first project with Viktor Tsoi "King of the Ford" took place, which mixed the underground world of dudes with the thieves' environment. From there, the modernized character Moreau migrated to the Igloo.
For the first time I visited Moscow and Leningrad …
Back in 1973, as an architecture student. He came to VGIK only ten years later.
The pub, which everyone involved remembers, was located halfway between the VGIK hostel and the institute itself. It is quite natural that it has become a gathering place for students of all workshops in their free time. It is interesting that for the first time I visited this pub, which was nicknamed "Parliament", in the same distant 1973, and even then the Moscow beau monde of the unmercenaries gathered there. The absence of change in the pockets more than paid off with an abundance of ideas, and good undiluted beer helped to loosen the tongue. Friendships and creative tandems were established there, no matter how illusory they may seem to us today.
In Moscow, I spent not only my student days …
But also years of work. Even after moving to France. I love this city, it has become my home, and with the number of friends and colleagues, only Alma-Ata can be compared with it.
My favorite area is Boulevard Ring in the Turgenevskaya area, where I lived for several years. And every business trip I certainly stop at Pushkin Square or in the neighborhood. By the way, this is where the first shot of The Needle was filmed, where Moreau walks along a narrow lane – few people know about him, even the old-timers have not heard everything. It is a dead end, hidden in a secluded nook and cranny of Strastnoy Boulevard.
My trip around Moscow was…
Of all addresses – along and across. I'm a nomad by nature, I love changing places. It also helped that I lived for a short time in the dormitory of VGIK at VDNKh. After a couple of months, I rented an apartment on Nakhimovsky Prospekt, and this is the opposite end of the city. That's how I got to know Moscow – in constant motion. Not to mention the fact that he constantly traveled to St. Petersburg by night trains.
I moved to France…
In 1992, not as an economic or political emigrant (in this I had much more tempting prospects in my homeland), but as a "slave of love." Yes, I recklessly fell in love with my future wife – my move was the only way to start a family, since I have always been in love with French culture, its architecture, painting, literature and cinema. So the move not only allowed me to give birth to children, but also to make everything that I loved a part of myself: freedom, equality, brotherhood!
Comparing Moscow and France…
In the everyday sense, France, of course, will give odds to Russia. But not by bread alone, as they say… I don't think it's necessary to compare something completely different. I love Paris as an architect, I love France – it is like a wife to me, a second homeland: here is my family, my children. Kazakhstan is like a father to me: all my relatives, my childhood and my youth are there. And Moscow is friends, teachers, acquiring a profession, creative maturity. Everything is different and therefore valuable in its own way. One cannot be replaced by another.
For me, a Muscovite is as cosmopolitan as an Almaty resident. It is the mixture of cultures that makes Moscow, Alma-Ata, and Paris valuable to me. However, like New York – another one of my favorites, where I spent a large part of my life.
Be my will…
I would turn the same narrow Moscow lane in the Strastnoy district into a youth cultural center by removing the ugly industrial pipes that appeared there.
Been to Moscow…
Before very often. In the last couple of years, due to quarantine restrictions, a little less often. Nevertheless, in the fall of 2021, I shot a lot in Moscow and St. Petersburg, as well as in Vladimir, Novgorod, Astrakhan for my documentary about Batu, the founder of the Golden Horde.
As a close friend of Tsoi, I can say about his relationship with Moscow that …
Victor loved not Belyaevo, but Natasha (Tsoi's lover Natalya Razlogova. – Note. ed.), to which he moved in 1987 to Profsoyuznaya. I did not notice any nostalgia for Peter in him – he left him without any visible regrets. Victor was constantly moving forward, and Moscow offered him much more opportunities in this, he felt great here, and Peter became cramped for him, like a teenage jacket.
I became part of the biopic exhibition "Viktor Tsoi. The Hero's Journey…
I am very pleased with the result, although, like any artist, you always want more and more. Today it is not only the best exhibition dedicated to Tsoi, but also one of the best exhibitions in the city in general. The best not only because it is connected with our cooperation (Rashid Nugmanov became the co-curator of the Igla and Citadel of Death halls. — "Moskvich Mag"). At this exposition, not only a completely unique spirit of a special, unique time of the distant past reigns, but also a taste of modernity, and, I dare to assume, a bridge has been laid to the future. It seems to me that what happened is the timeless spirit of this exhibition. If "Tsoi is alive", then this is brilliantly embodied here.
If only I could make The Citadel of Death…
In any case, Victor has already become a movie star, having earned the title of the best actor of the USSR in 1989 for the main role in The Needle, far ahead of domestic luminaries, according to the annual survey of the Soviet Screen magazine. But "Citadel" would certainly bring him to the international top.
Should I take it off with him now? It's easy to answer. The same "Citadel", written in 1990 with Bill Gibson, today regains special relevance, at a new, higher level. Tsoi conquered time – this is his main feat in life.
Exhibition "Victor Tsoi. The Hero's Journey has been extended until June 21, the rock hero's birthday.
Photo: from the personal archive of Rashid Nugmanov