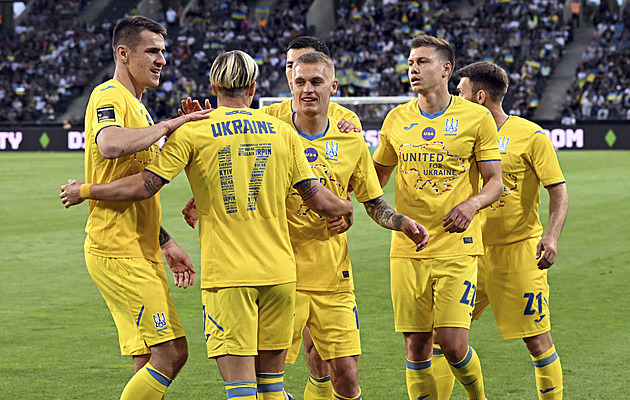 Ukrainian soccer players celebrate a goal.
| photo: AP

The players entered the match with a banner reading "Stop the war". The 29-year-old Shakhtar Donetsk midfielder Mykhailo Mudryk, who made his national team debut, sent the Ukrainians into the lead in the ninth minute. Shortly afterwards, Conor Noss leveled. Ukraine won thanks to the goal of another debutant Oleksandr Pichaljonok from the Dnieper, who decided in the 82nd minute.
"We haven't played for six months, this team hasn't done anything for six months," said coach Oleksandr Petrakov, whose charges played last in November, beating Bosnia and Herzegovina 2-0. "I have nothing to complain about. It's good at this stage. There were a lot of mistakes, but we will eliminate them, "said the coach after the match with the tenth team of the Bundesliga table.
The Ukrainians are preparing for the playoffs for the World Cup, they will start the postponed semifinals with Scotland on June 1. Before that, they will play preparatory matches with Empoli and Rijeka.