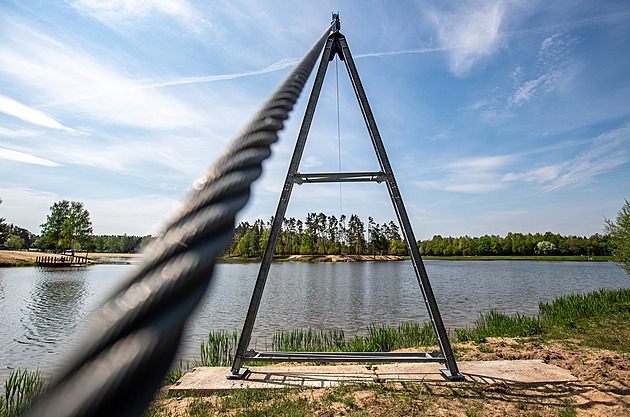 When the Silver Pond was established in 1963, Hradec Králové had huge recreational plans with the area. The city planned to pump ten million crowns into it 60 years ago, which is more than 142 million according to today's inflation calculator.
However, the visions of that time never came true, Stříbrňák, including the camp, got stuck in the Umakart-Bakelite times, and the most visible sign of evolution was the construction of a water slide about 30 years ago.
On the other hand, the Silver Pond is experiencing golden times and the city even considers it a "golden egg". The area has experienced a huge increase since January 1, 2020, when it was taken over by the company Městské lesy Hradec Králové, which, moreover, does not end.
This is reflected in the record interest in the camp. While until recently it was more of a fight for tourists, today the administrator is more likely to choose when he prefers weekly shifts, for example, over weekend stays.
Small Hradec Králové Croatia
Even before last season, the investments were visible from the gatehouse. Since then, however, the area has been further improved.
Behind the former toboggan, which had worn out years ago and was more of an accident than an experience, was a recently collapsed fence, behind it an unmaintained forest with aerial trees and a mess decades old.
Now behind the new mobile homes is a well-maintained pine grove, where there is room for hundreds more caravanists or tourists in tents under the treetops. The image with Croatian camps is striking, except for the lack of the rustle of the Adriatic.
"We have plans from 1963 and already at that time it was planned to build a pleasant space for tents and caravans in that locality. We already have the space ready, we recently planted the grass. Next year, we would like to make ten new solid hexagonal tents for children, for example for camps or outdoor schools, "points out the head of the city's forests, Milan Zerzán.
Wedding on Stříbrňák
The neighboring village of four-seater wooden mobile homes has grown to ten. They are equipped with a kitchen, bathroom, television or air conditioning, daily rental costs 2,200 crowns and guests' interest in accommodation is great.
There is a new hall with a buffet and toilets on the site of the former changing rooms. There are up to 120 seats inside and in addition to corporate parties and concerts, there will also be wedding. So far, eight couples have booked their wedding at Stříbrný rybník this year.
Directly in front of the hall is a large screen of a summer cinema, according to the operator there is no problem to organize an event for up to six hundred people. In addition to the hall, mobile homes from Lithuania and an expanded campsite, new parking spaces, the driveway from Svinar, cultivated and enlarged beaches on the peninsula, a barbecue area and even a water skiing lift are new.
Mud removal in perhaps two years
Next year, the construction of up to six cottages on stilts with a sauna is planned, and in 2024 the pond could wait the long-awaited investment – mud removal for more than twenty million crowns.
"Today, no one doubts that the takeover of the center by the urban forests was a positive step. The silver pond could serve as a model for other city companies on how to manage city property. It is developing here, we are far from the end yet and I think that one day it will be the golden egg of the city, "says Pavel Marek (YES), Deputy Mayor for City Property Management.
According to Milan Zerzan, about 37 million crowns have been invested in the town hall complex with the city's companies, and this year it expects a profit of around six million crowns.
"It simply came to our notice then. The return on our costs is three to four years, which I don't think is bad at all. I found out that Stříbrňák is a matter of the heart for many Hradečák people, they have a lot of memories of him and some of them spent their childhood here. We are all the better that we can manage and improve it, "points out Zerzán, who estimates that the camp accommodates about one hundred thousand people a year.
The refugees have already left the cottages
After the covid fast, it is said that there is a huge demand for school trips and every weekend up to 60 caravans reserve a place here.
"We have arranged big events, we are launching a summer cinema, we are also thinking about Christmas markets. And the interest is extraordinary. We recently took everyone, today we are choosing. We prefer weekly shifts always from Saturday, the shorter ones only if there are any places left, "describes Zerzán.
The cottages in which the Ukrainian refugees were accommodated a few days ago are already ready for the season. About 80 of them lived here in temporary camp conditions for almost two monthslast left on May 2.
"I had negotiations with the management of the KACPU help center and we agreed that some of the refugees would be relocated to other localities and the part with ties to Hradec Králové would receive asylum in the city's accommodation capacities," says Marek. "We are glad that we were able to help, but refugees could not stay here during the season," adds Zerzán.