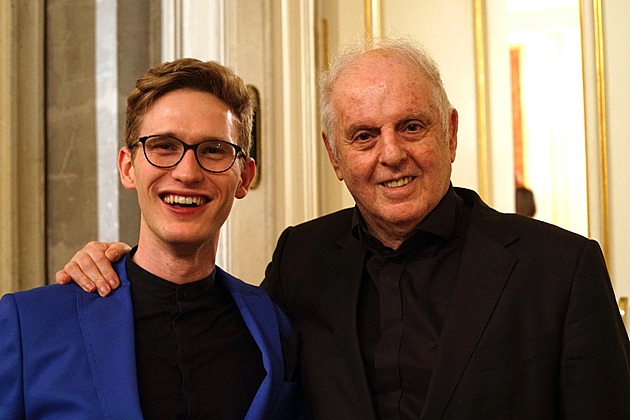 Conductors Thomas Guggeis and Daniel Barenboim
| photo: Prague spring

The domestic organizers still owed this orchestra. Now it is finally coming – and the Prague Spring can be proud of it. In addition, the West-Eastern Divan Orchestra will start it with Smetana's My Homeland on Thursday.
The body derives its name from Goethe's collection of poems, and musicians from Israel and Arab countries sit side by side. His birth was conducted in 1999 by conductor Daniel Barenboim with Edward Said, a Palestinian academic who is no longer living. The idea was obvious: In every orchestra, musicians must be able to listen – so why not get representatives of hostile nations to communicate in this way? Today, the orchestra is a musical and social phenomenon.
Without Barenboim
Musicians come to Prague as part of a tour on which my homeland performs in various European cities. Unfortunately, without Daniel Barenboim, who opened the Prague Spring in My Homeland in 2017 – then with the Vienna Philharmonic. Now, for health reasons, he had to withdraw. He is represented by his former assistant, German conductor Thomas Guggeis. Even his performance can be expected with curiosity. The concert will be repeated on May 13.
Already this Saturday, the Prague Spring invites you to three concerts in the St. Agnes Monastery, which will combine old music with new music. The dialogue between ancient masters and contemporary authors will be led by The Breathtaking Collective, Tiburtina Ensemble and Collegium Marianum. In the coming days, the festival will welcome, for example, cellist Gautier Capuçon, who will perform at two chamber evenings and will be the soloist of Wednesday's City of Birmingham Symphony Orchestra, conducted by its Lithuanian chief conductor Mirga Gražinytė-Tyl; in addition to the Cello Concerto by Edward Elgar, Anton Bruckner's Symphony No. 6 will also be performed.