When planning for the future and retiring, Bruce Willis, 67, and his wife, Emma Hemming, knew they wanted to settle near a family in California and would not need a lot of homes scattered in many places. Due to the actor's illness (the actor suffers from aphasia, which affects his ability to speak) it is clear that there will be no more big incomes, while maintaining so many properties costs millions of dollars. That's why they sold a headquarters in Westchester, New York, a ski cabin in Sun Valley, Idaho, a hacienda in Beverly Hills and, above all, a beach residence in the Turks and Caicos.
How dreams come true
As early as 2019, Willis sold one of his best properties for $ 27 million, a beachfront residence on Parrot Cay in the Turks and Caicos Islands. His name added to her price, so now the current owner is selling it for $ 37.5 million.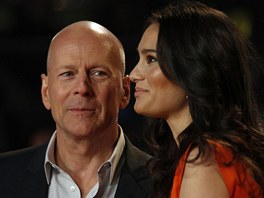 Bruce Willis and his wife Emma Heming (February 7, 2013)
The land of almost 2.5 hectares in COMO Parrot Cay was bought by Bruce Willis in 2000 and began to build a tropical paradise, where there was no lack of accommodation for guests, including a large children's room with bunk beds and a playground.
Over the next four years, he had three houses with a total area of ​​approximately 3,200 square meters built, together with 12 bedrooms and 14 bathrooms. The main house with six bedrooms has undergone a complete redesign and modernization after the sale. This house is used mainly for entertainment, while the other two, each with its own pool, function as the main apartment and guest house.
The upper floor of the main house is for children to play by the pool and on the beach, but also on the playground, which has its own pirate ship. With on-site swimming pools and a nearly 400-meter-long pristine white sand beach, there are many options to choose from.
The son of an American soldier and a German (born in Idar-Oberstein, Germany) came to the public thanks to the TV series Moonlighting, where the chemistry between him and Cybill Shepherd was electrifying, so the viewer often almost forgot about the plot.
Willis then starred in more than a hundred films, including Pulp Fiction, Sixth Sense, Armageddon, and the Death Trap from 1988 to 2013. His acting talent helped him create an impressive fortune, much of which he invested in a variety of luxury homes.