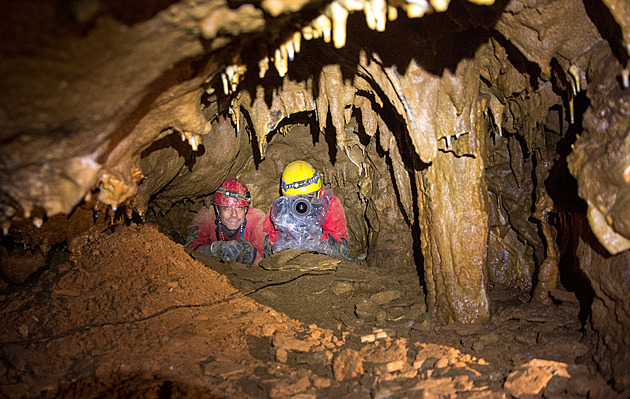 It was filmed in a total of five caves: in Kateřinská, Sloupsko-šošůvské and Býčí skála in the Moravian Karst and in Javoříčské and Mladečské caves in the Olomouc region.
"The plot is set in a huge cave complex, whose specific terrain reflects what is happening in the dramatic story line and inside the characters. It is an underground world for itself, which was well written on paper, but then came the phase when specific locations had to be found. Although the cavers warned us that we would not find anything like that in our country, we succeeded and thus created a fictional world, "says Roman Němec, director, screenwriter and producer in one person.
The crew stayed in the caves for 27 filming days, and another about fifty days were swallowed up by preparations. "Due to the very non-standard environment with difficult accessibility, special technical equipment and staff training were required," says Němec.
The usual shooting team of 20 to 25 people could work in the more accessible caves. Only about half of the staff could accommodate less friendly spaces, such as Býčí skála.
"The equipment was disassembled and placed in watertight barrels, which the cavers then stretched to designated locations. It was very time consuming, but it was worth it, "notes the director.
The film tells the story of two distinguished characters, high school student Daniel, played Daniel Krejčík and his teacher Adam played by Jiří Vojta. They both lock themselves in their own world for various reasons, but inadvertently find themselves trapped in a cave complex.
"Their feeling of loss and tendency to close will suddenly take on a real form against their will and they will have to deal with a real crisis," Němec suggests.
Viewers will see the supporting roles Jaroslav Dušek,Klára Melíšková, Martin Myšička, Simona Babčáková, Jakub Krejča and others. The ceremonial premiere of the film will take place on Monday 16 May in Prague's Lucerna, and on 25 May it will be screened in the Blansko cinema.