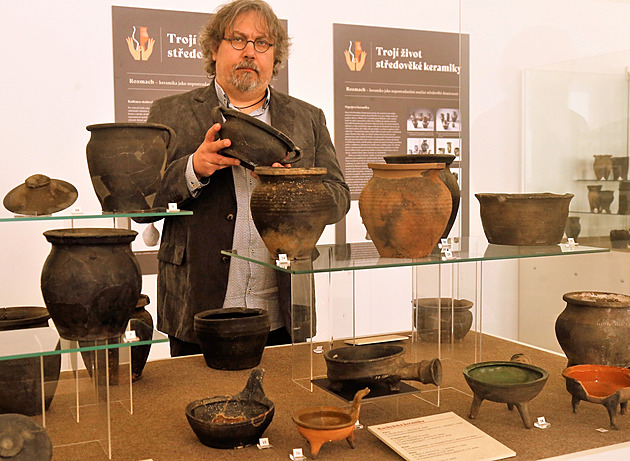 "The findings come from four royal cities, which are Brno, Jihlava, České Budějovice and Plzeň," says museum director and exhibition curator Jiří Orna.
You can see various medieval pots, jugs or cups. Pilsen is one of the relatively well-mapped cities in terms of medieval pottery finds.
"This is due to the fact that in the years 1967 to 1994, the cellars of the Pilsen underground were rehabilitated. A number of waste sump bodies were encountered. Several tons of archaeological material were obtained from them. We have 1,400 vessels from the end of the 13th century to the end of the 15th century, "Orna notes.
There were eighty cisterns in Pilsen, each of which released about a ton of material. There is still a lot to handle. The pots have survived the most.
In the Middle Ages, porridge was the most eaten
"The most common dish at the time was porridge. It so happened that someone did not stir the food and it burned. The container could not be washed, so the owner threw it in the pit as unusable. And thanks to that, archeology has knowledge. Currently, the importance of scientific analyzes and chemical methods is increasing. One of them deals with the topic of pits. They allow us to find out what people ate at the time. What was unfortunate for the household – food burned on them and they still lost the pot – is a blessing for archeology, "he states.
According to him, experts tried to find some volume regularity in medieval vessels. "We found out that the craftsmen of the time made them out of sight. The rate was not so important to them. The only case where any was proven was the cups. The most common was a iron, which is a pint. This was also true of the Pilsen Cups, "he adds.
The exhibition also shows a replica of a historic pottery kiln where ceramics were fired. "We have the only find in Pilsen from Lochotínská Street. This does not correspond much to the written sources placed by potters' workshops in the South Suburbs in front of the Litická Gate, "he explains.
The appearance of the containers from different cities was said to not differ much. "There were only some minor production differences. Graphite, for example, was used in the production of ceramics in České Budějovice. In the Middle Ages, it is said that there was a lesson in Prague that whoever had a black mouth came from Budějovice, "says Orna with a smile.
The exhibition entitled The Triple Life of Medieval Ceramics is open to the public until September 25.