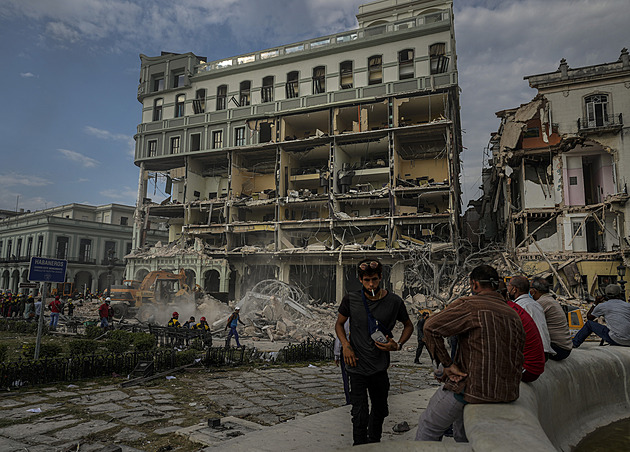 People are watching the rescue work at the site of the blast that destroyed the five-star Saratoga Hotel in Havana, Cuba.
| photo: AP

Cuban President Miguel Diaz-Canel said the gas was likely to be the cause of the explosion. He assured it was not a bomb attack, but an unfortunate tragic accident.
There were no tourists in the hotel with 96 rooms at the time of the explosion, because it was under renovation. However, he was to resume operations after a two-year hiatus next week, so there were relatively many people in the building.
Cuban Health Minister José Ángel Portal told the AP that the number of injured may increase as the search for people who may be trapped in the rubble of the building continues.
According to agencies, a gas tank parked in front of the hotel appears to have caught fire. The explosion destroyed several floors of the building and much of the outer wall is torn down.
The hotel is owned by the Cuban army's tourist business subsidiary Grupo de Turismo Gaviota. The company said it was investigating the cause of the explosion. Hotel Saratoga was considered one of the most luxurious facilities in the city. In the past, this hotel was home to prominent politicians, businessmen and celebrities. In recent years, however, the hotel has lost some of its wealthy clientele due to the opening of new facilities in the Cuban capital.
The blast at the famous hotel came as Cuba struggled to revive its important tourism industry, ravaged by the covid-19 pandemic. Tourism began to partially recover earlier this year, but the war in Ukraine limited the arrival of Russian tourists, who last year accounted for almost a third of tourists coming to Cuba.