Thirty-two selected journalists, as well as captains and coaches of league teams, vote in the League Football Association (LFA) poll.
They select the players of the season, the coach, the personality of the league, the best foreigner, the discovery of the season and in the subcategories they choose the best goalkeeper, defender, midfielder and forward.
Player of the season
1. Tomáš Holeš (Slavia) 100 points
2. Adam Hlozek (Sparta) 69
3. Jindrich Stanek (Plzen) 64
4. Jean-David Beauguel (Pilsen) 51
5. Alexander Bah (Slavia) 15
6. Ondrej Lingr (Slavia) 13
7. Adam Vlkanova (Hradec) 12
8. Václav Jurečka (Slovácko) 9
9. Lukáš Hejda (Pilsen) 8
10. David Hancko (Sparta) 3
11. Ewerton (Jr. Boleslav) 3
12. Jhon Mosquera, Milan Havel (Pilsen) 2
14. Ladislav Almási (Ostrava) 2
15. Lukáš Kalvach (Pilsen) 1
The prize in the main category remained in Slavia. After last year's triumph of Lukáš Provod, Holeš won, with a large majority. Twenty-four voters put him first, thirteen second and two third.
"I am just happy. Especially when coaches and captains evaluate it, "said Holeš.
"I was surprised because we don't have a title. And I wasn't as strong on the pitch, I don't have goals and assists like last season, "said Holeš.
"If we won the league, the prize would take me much better. I would definitely trade her for a title. It's a little bitter like that. "
Hložek had only six first places, twenty-one was second and nine times third.
The third Staněk appeared in the first place with fifteen voters, four wrote it in the second place and eleven in the third.
Three points were given for the first place, two for the second and one for the third. Holeš achieved one hundred points, Hložek sixty-nine and Staněk had five less.
A total of fifteen players scored points. Among them are elite shooters Jean David Beauguel, Václav Jurečka and Ladislav Almási, as well as Pilsen support Lukáš Hejda, Milan Havel, Jhon Mosquera with Lukáš Kalvach, Slavists Alexander Bah with Ondřej Lingr, Hradec Králové truck Adam Vlkanova, Spartan Dávid Hancko and Boleslav dribler Ewerton .
Michal Bílek from the championship Pilsen received the most votes among the coaches. Twenty-nine times he was in first place, sixteen times in second and eight times in third.
"I really appreciate it, everything is nice now. I am very happy with the title, I like the boys. When you see how happy everyone around you is, it means a lot to me, "said Bílek.
"I'm not dealing with myself, I'm a player and I'm happy about them. If I win something, it's nice, but not the most important thing. For me, the team is above all, "he emphasized.
At the beginning of the season, it would not have occurred to him that his team would surpass Slavia with Sparta and he had Jindřich Trpišovský and Pavel Vrba.
"We finished fifth last season and my job was to put the team together. I had other worries than thinking about the title or the victory in the poll, "Bílek remarked with a laugh.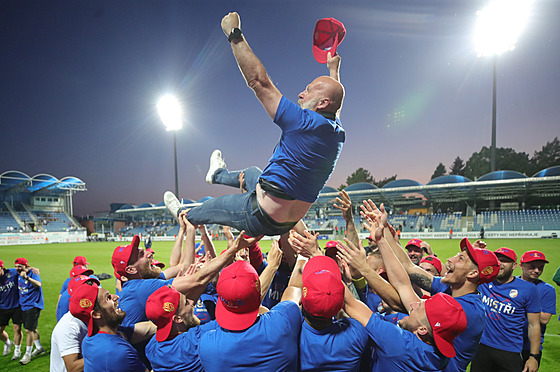 The Pilsen footballers celebrate winning the title by throwing their coach Michal Bílek into the air.
Miroslav Koubek from Hradec Králové finished second, fifteen voters put him in first place, nineteen in second and ten in third.
The Slavist Jindřich Trpišovský takes the bronze, he was first on ten tickets, second on thirteen and third on sixteen.
Martin Svědík from Slovácko also scored a lot of points. Budweiser David Horejš and Spartan Pavel Vrba received a single vote.
The best foreigner of the Fortuna League is the Pilsen striker Jean-David Beauguel, who won with a big lead over the glorious Alexander Bah, Ewerton in Boleslav and the Spartan Hanck. A total of fifteen foreigners received the vote, including Nico Stancia and Fortuna Bassey, who left the Czech league after the autumn.
Marek Matějovský, 40, is clearly a personality of the Czech top competition. The Boleslav midfielder was first on twenty-nine tickets, second on ten and third on four. He scored a total of 111 points, the second Tomáš Hübschman has 66 points, the third Milan Petržela thirty-three.
Other veterans Jan Laštůvka, Michal Kadlec, Bořek Dočkal, Josef Jindřišek, Roman Hubník follow. A total of twenty-two players collected points in this category, for example Slavist Ibrahim Traoré, Pardubice's Jan Jeřábek and Michal Papadopulos from Karviná.
With the discovery of the season, the voters chose the nightingale David Jurásk, who dazzled in Mladá Boleslav in the autumn. The second was another Slavist Yira Sor and the third was David Tkáč from Zlín. However, he did not play most of the spring due to injury.
In the Discovery of the Season poll, only players born on June 1, 1999 and younger could vote, and at the same time in previous years, he was not allowed to play more than fifteen matches per season. Spartan youths Vitík, Karabec, Hložek and Čvančara, for example, did not fit into those parameters.
In the sub-polls, which took into account the specific positions in the group, those who placed in the top positions in the main category reigned supreme.
Staněk won among the goalkeepers, the best defender is Bah, midfielder Holeš, forward Beauguel.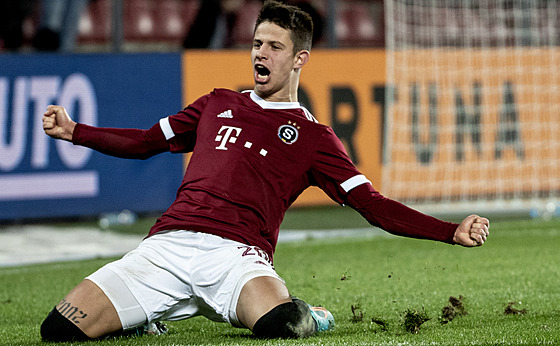 Nineteen-year-old spartan Hložek, who surpasses the Czech league and is individually its best footballer, took second place in the main category and among the attackers. And he also has one triumph, becoming the best player of the season according to a fan vote.
Results of the League Football Association (LFA) polls for the season 2021/2022
Coach of the season
1. Michal Bílek (Pilsen) 127 points
2. Miroslav Koubek (Hradec) 93
3. Jindrich Trpisovsky (Slavia) 72
4. Martin Svědík (Slovácko) 60
5. David Horejš (Budějovice) and Pavel Vrba (Sparta) 1
League personality
1. Marek Matějovský (Boleslav) 111
2. Tomáš Hübschman (Jablonec) 66
3. Milan Petržela (Slovácko) 33
4. Jan Lastuvka (Ostrava) 24
5. Michal Kadlec (Slovácko) 21
6. Bořek Dočkal (Sparta) 17
7. Josef Jindřišek (Bohemians) 16
8. Roman Hubník (Olomouc) 12
9. Lukáš Hejda (Pilsen) 7
10. Tomas Holes (Slavia) 7
11. Ondřej Kúdela (Slavia) 6
12. David Hancko (Sparta) 5
13. Michal Papadopulos (Karviná) and Jan Sýkora (Plzeň) 4
15. Jakub Rada (Hradec) 4
16. Theodor Gebre Selassie (Liberec) 4
17. Jean-David Beauguel (Pilsen) 3
18. Tomas Grigar (Teplice) 3
19. David Hovorka (Slavia) 2
20. Jan Jeřábek (Pardubice) and Stanislav Tecl (Slavia) 2
22. Ibrahim Traore (Slavia) 1
Alien of the season
1. Jean – David Beauguel 137 points
2. Alexander Bah 88
3. Ewerton 45
4. David Hancko 24
5. Ladislav Almási 15
6. Jhon Mosquera (Pilsen) 11
7. Ivan Schranz (Slavia) 7
8. Santos Eduardo (Karvina / Pilsen) 5
9. Yira Sor (Ostrava / Slavia) and Ibra Traoré 5
11. Peter Olayinka (Slavia) 5
12. Nicolae Stanciu (Slavia) 3
13. Fortune Bassey (Budejovice) 2
14. Taras Kačaraba (Slavia) and Cadu (Pardubice) 1
Discovery of the season
1. David Jurásek (Boleslav / Slavia) 75 points
2. Yira Sor 68
3. David Tkáč (Zlín) 51
4. Aiham Ousou (Slavia) 40
5. Daniel Samek (Slavia) 28
6. Vaclav Sejk (Teplice) 21
7. Filip Vecheta (Slovácko) 10
8. Filip Kubala (Hradec) 6
9. Kryštof Daněk (Olomouc) 6
10. Michal Černák (Jablonec) and Rafiu Durosinmi (Karviná) 4
12. Jáchym Šíp (Olomouc) 4
13. Daniel Fila (Boleslav / Slavia), Jakub Markovič (Pardubice), Jiří Borek (Slovácko), David Pech (Boleslav) 2
17. Robin Hranáč (Pardubice) 1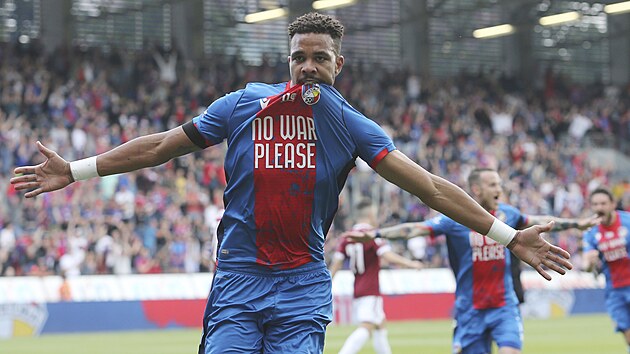 Jean-David Beauguel from Pilsen celebrates a goal in the match against Sparta.
Goalkeeper of the season
1. Jindřich Staněk 169 points
2. Aleš Mandous (Slavia) 88
3. Matus Macik (Olomouc) 29
4. Jan Lastuvka 23
5. Filip Ngyuey (Slovácko) 22
Defender of the season
1. Alexander Bah 117 points
2. Lukáš Hejda 86
3. Dávid Hancko 53
4. Milan Havel 19
5. Michal Kadlec 19
Midfielder of the season
1. Tomas Holes 111
2. Adam Vlkanova 58
3. Ondrej Lingr 55
4. Lukáš Kalvach 28
5. Ewerton 25
Forward of the season
1. Jean – David Beauguel 143 points
2. Adam Hložek 100
3. Vaclav Jurecka 80
4. Ladislav Almási 21
5. Yira Sor and Daniel Vašulín (Hradec) 3
7. Tomáš Čvančara (Sparta), Jan Kuchta (Slavia) 1
Second league season player
1. Jakub Řezníček (Brno) 47 points
2. Filip Blecha (Vlašim / Brno) 21
3. Bojan Dordič (Varnsdorf) 15
4. Jaroslav Malek (Lisen) 11
5. Jan Peterka (Dukla) 7
Second season season coach
1. Richard Dostálek (Brno) 37
2. Pavel Drsek (Varnsdorf) 26
3. Martin Hyský (Vlašim) 21
4. Michal Hornak (Sparta B) 21
5. Roman West (Opava) 10