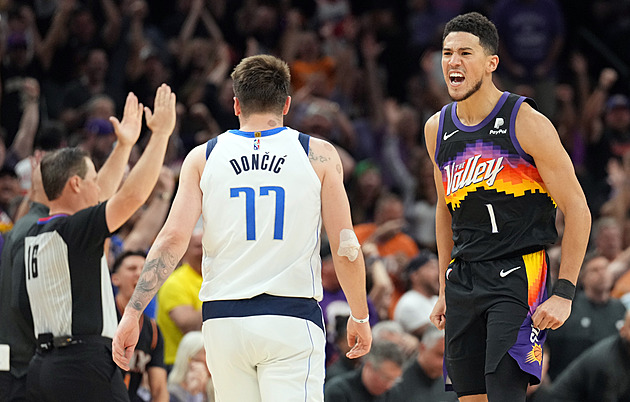 Devin Booker (1) from Phoenix Suns celebrates his three in the match against the Dallas Mavericks, followed by Luka Dončič (77).
| photo: Joe Camporeale-USA TODAY Sports, Reuters

At 2: 2, both fights on Tuesday were crucial. Miami players did much better mentally than Philadelphia. The Sixers did not succeed in the attack and already lost a double-digit loss in the first quarter. They stopped the home team's escape, but they did not come back into contact. In the last quarter, on the other hand, they dropped out, the Heat broke the match with a 12-0 line and finally won by 35 points. They equaled the highest win in this year's playoffs and recorded the second highest for Miami in playoff history.
"My opponent was much more physical. We didn't run, we played at a snail's pace. They were harder, stronger and faster in everything. Their energy was better, "said Philadelphia coach Doc Rivers.
"It simply came to our notice then. They know it, we know it. The next match with them may be completely different. We have to keep our concentration and add the last win, "added the coach of the Florida team Erik Spoelstra.
Seven of his charges had a double-digit number of points. Jimmy Butler was the leader with 23 points, Max Strus scored 19 points. Joel Embiid scored 17 points for the Sixers.
A match between two different halves took place in Phoenix. Dallas had the upper hand in the first, but in the second the Mavericks failed when the opponents allowed a 17-0 lead in the beginning of the third quarter and Phoenix already had a chance to win clearly.
During the key line, Deandre Ayton scored eight of his 20 points and Devin Booker, who was Phoenix's top scorer with 28 points, added seven points.
Luka also had 28 points for Dallas, Jalen Brunson added 21 points, but they lacked more help from teammates. The Mavericks had 12 losses in the third quarter.
NBA – Round 2 play off
Eastern Conference – Match 5:
Miami Heat – Philadelphia 76ers 120: 85
The score of the series is 3: 2
Western Conference – Match 5:
Phoenix Suns – Dallas Mavericks 110: 80
The score of the series is 3: 2