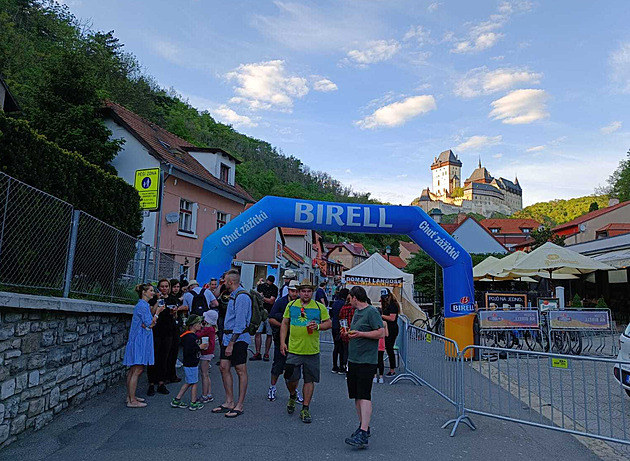 "We had a hike of about twenty kilometers and we wanted to get on a train in Karlštejn and go home. We were about a kilometer away from the stop when we came across the occupation of the festival organizers. Nowhere along the way did we come across any warnings or markings on any detour route. We needed to walk about 150 meters, "said David Frank.
The organizers insisted on paying 100 crowns of entrance fee from everyone who wanted to use the trip. "Our only goal was to get on the train. We asked the organizers to take us so that they knew that we were not going to take part in the event, but just wanted to get on the train. They refused, "says Frank.
There was a quarrel between a group of tourists and the organizers. "They told us that the information about the closure was posted, but we did not see any. They sent us on a patrol, but they did not know where it was going and it was not marked either. In the end, we just went through, "says tourist Renata Balažicová.
According to David Frank, in just a few minutes of the group arguing with the organizers, about ten other people arrived. Some of them, tired after the trip, paid the entrance fee rather than going around or arguing instead. "I think it's a normal theft. The organizers should apologize and return the money to the people who just wanted to pass, "says Frank.
The occupation was approved
The organizers had arranged and approved the occupation of public space for the first Karlštejn Beer Festival. Information that the route will be inaccessible was also on the website of Karlštejn Castle, and the organizers also posted maps with three options for trade routes on the Internet.
"Everything was announced in advance, the occupation was approved and we tried to give visitors all the necessary information. But we will definitely analyze the mistakes that this first year brought, "says the event organizer Jiří Přáda from the registered Friends of Karlštejn.
The organizers for the next years want to provide better and more information about the closure of the space and will also consider creating a corridor for pedestrians.
"The event was financially demanding, there were several bands that we had to pay for, so we collected admission. Occupations are made, for example, because of the vintage, and no one complains. Nevertheless, I am sorry that the tourists had problems. It was the first year, we will definitely make sure that the next year runs more smoothly, "adds Přáda.