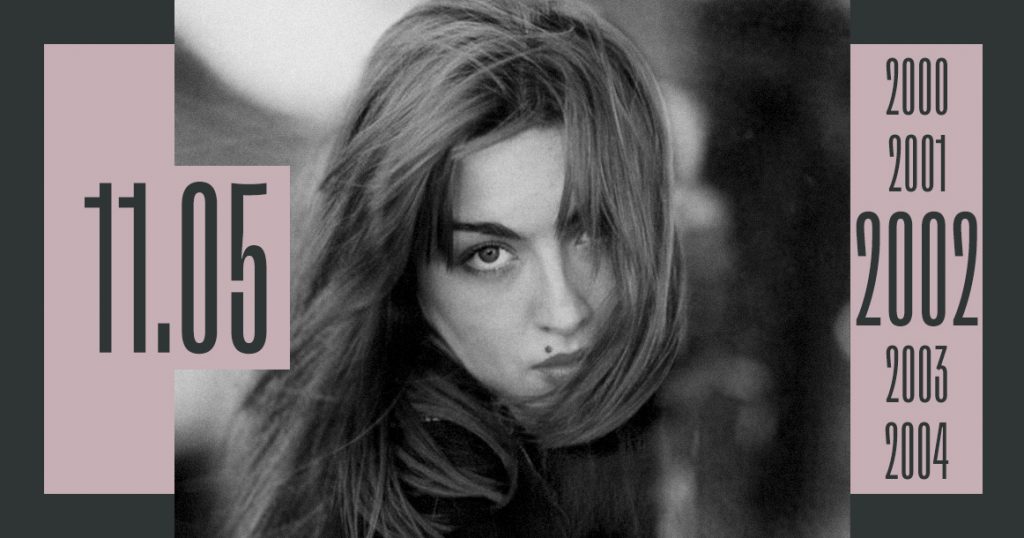 Nika was born in Yalta in 1974. Once, as a child, she told her grandmother: "Boule, I will die at 27 years old. Although before that I will die dozens of times. Unfortunately, this prediction came true.
At the age of 4, Nicky developed asthma. Attacks of suffocation most often came at night, and little Nika was afraid to sleep. It was at night that poetry began to come to her. She said that the words choked her and demanded an exit. Nika didn't know how to write yet, her mother and grandmother wrote down the poems. The girl was strange. She stood at the mirror for a long time and talked to herself. "Who are you talking with?" Mom asked. "With God," answered Nika. When the girl was 7 years old, her poems caught the eye of Julian Semenov, who was vacationing in Yalta. He immediately exclaimed: "This is brilliant!" A month later, Komsomolskaya Pravda published a full spread of her poems. From that moment began her worldwide fame and human tragedy.
Soon the collection of Nika Turbina "Draft" was released. It was translated into 12 languages, and the 30,000th edition was immediately sold out. The girl with the hairstyle of Mireille Mathieu instantly became a star. Yevgeny Yevtushenko filmed her in his film "Kindergarten" and performed with her on tours around the country. Thousands of fans were eager to listen to Nika. She never performed alone. On stage, she held her mother's hand and after each verse she threw herself into her arms. "Only poets can read like this," Yevtushenko said, refuting suspicions that Nika's mother wrote for Nika. At the age of 11, Nika received the highest award, the Golden Lion, at the poetry festival "Poets and the Earth" as part of the Venice Biennale. She became the second Russian poet to receive the "Lion". The first was Anna Akhmatova.
Soon Nika's family moved to Moscow, and my mother got married again. A sister was born to the young poetess, and the ghost of loneliness loomed before Nika, which she had been afraid of all her life. She studied poorly and found a common language with few people. The angel gradually turned into a demon. Her grandmother recalled: "Nika cut her wrists, threw herself out of the window, drank sleeping pills. I understand that she was simply afraid to enter into life. By the age of 13, Nika left home and began to live alone. Gradually, all the patrons left her. At the age of 16, she married a 76-year-old Swiss psychiatrist, left for Lausanne, but returned to Moscow a year later. "I can't live anywhere except Russia," she later said. "Although it sounds trite, patriotic idiocy, apparently, is present in me." In Lausanne, she began to drink terribly.
Everything that happened to Nika next is more like a fall from a height. She studied at GITIS and the Institute of Culture, but things did not go beyond the first year. Nika almost did not know how to write and she herself invented cursive writing with the omission of vowels – so it was easier for her to write poetry. Her script for the training film was met with the words: "So you can do everything. What are we going to teach you?" But the adult Nika turned out to be of no use to anyone, and she never learned to build her own life. A great gift turned into a great despair. She withdrew and lived alone in a small apartment on the outskirts of Moscow. She was accompanied by cats and dogs.
The first time she fell from the fifth floor was in May 1997, but she survived. On the evening of May 11, 2002, one of Nika's neighbors heard screams in the street. "On the ledge of the window of the fifth floor, clinging to it with her hands, a girl hung. She shouted: "Sasha, I'm about to fall! Help me! Sasha, I'm going to break!" I rushed to call an ambulance, – she recalls, – and when I ran out into the street, the girl was already lying on the ground … When the ambulance arrived, she was still alive. Doctors tried to insert a tube into her throat, but the girl knocked it out of her mouth with a weak movement of her hand. I still remember her beautiful and for some reason very calm face. Sasha Mironov, a former "Afghan", was Nika's last friend. Apparently, he could not help her at the last moment.
Nika's body lay in the hospital morgue for many days. Only a month after Nick's death, Turbina was cremated and buried at the Vagankovsky cemetery.
Photo: nturbina.ru