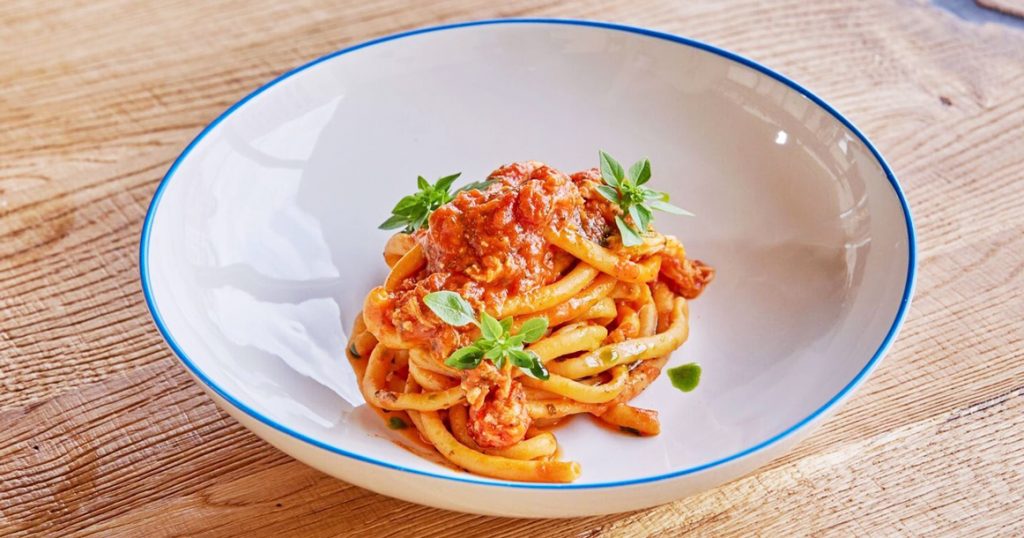 On the roof of the mansion of the Lila restaurant project (Sretenka, 22/1, building 1), which houses a pastry shop, a Pan-Asian restaurant, a bar-laboratory, and until recently there was also a haute French cuisine restaurant, there is a special summer veranda Lila Italy .
The house belongs to the GT holding (Galaktion and Elina Tabidze), the kitchen of the veranda is led by chef Nikita Gavrilov and, as the name implies, he is busy preparing Italian cuisine recipes.
Pros:
– the atmosphere is simple and relaxed, below, instead of the sea, there is Sretenka washed by the rains. Music of moderate volume drowns out conversations at neighboring tables;
– at lunchtime on a weekend, people "in the daytime" and citizens "in the evening" can meet each other, that is, those who have not yet got home. However, all are ruddy and eat with appetite;
– Asparagus soup with ricotta is called "gazpacho" and costs 780 rubles. Festive appearance with edible small flowers. Appetizing green color and moderate density. Cool and refreshing effect. Please pay special attention to the grapes (they are peeled, sweet, gently roll in the mouth). The garlic declared in the soup leaves no traces, therefore, you can kiss later without any twinge of conscience;
– judging by my observations, this roof is another place for walking expensive bags;
– bucatini pasta with crab and tomato (1350 rubles) – universal, suitable for absolutely everyone without exception. There is a lot of crab, and it is not a pity for money for it. Don't know what to take? Order this plate;
– if you suddenly need to eat good bread, then order panini with mortadella and mozzarella (990 rubles). Thin crispy crust, fluffy crumb, black salt and arugula leaves for decoration. Sausage and cheese are almost not felt, but it does not matter: we have bread with pesto around the head.
Minuses:
– green gazpacho is paradoxically slightly bitter: I assume that celery and olive oil in the wrong proportions are to blame;
– on almost all the verandas of our city, I miss the frank and Mediterranean riot of greenery, and Lila Italy, although there are real lemon trees, is no exception;
– expensive pizza: the cheapest "Margarita" costs 990 rubles, and pizza with salmon, crab and black caviar – all 5500. Against this background, pizza with shrimp and zucchini for 1950 looks like the most reasonable choice.
Photo: gt.life