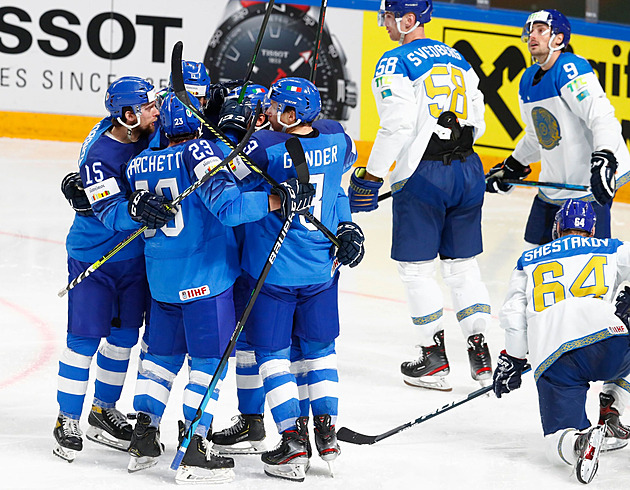 An Italian hockey player celebrates one of the three players who scored in Kazakhstan.
| photo: Reuters

Gliders Davide Fadani from Lugano started in Riga, Justin Fazio with armor Alex Trivellat from Bolzano, Gregorio Gios with Lorenzo Casetti and Enric Miglioranzi from Asiaga, Phil Pietroniro from Mylhz, Peter Spornberger from Schwenningen, Daniel Glira with tonko Ivanuster Luca Frigo with Daniel Frank from Bolzano, Marco Magnabosco from Asiaga and Alex Petan from Szkesfehrvr.
Dylan Di Perna, a guest from Bolzano in Ritten / Renon, and Simon Berger from Pustertal / Val Pusteria, Dante Hannoun with Matthias Mantinger of Pustertal, Daniel Mantenuto of Asiaga, Brandon McNally of Cardiff and Marco, can debut at the big event. Sanna of Cortina. Fazio, Di Perna, Pietroniro, Hannoun, Mantenuto, Petan are natives of Canada and McNally of the United States.
The stable member is returning. tonk Marco Insam from Bolzano started at ten World Championships, including five in the elite category. His team-mate Andreas Bernard performed on eight champions, many of which were equal. The forward Diego Kostner from the Ambri-Piotto squad is not missing.
The Italians competed with Austria at home in Bruneck (2: 1) and Innsbruck (0: 5), then played in Pontebb against Slovenia (1: 2) and France (1: 0) and played two duels in Britain in Milton Keynes (3: 1) and Coventry (3: 0).
Enter the championship on Saturday at 15:20 SEL against Switzerland, then in the group A warehouse in Helsinki they will play against Canada, Denmark, France, Germany, Slovakia and Kazakhstan.
Nomination hockey player Itlie
at the World Championships in Helsinki and Tampere (May 13-29):
Goals: Andreas Bernard, Justin Fazio (HC Bolzano / ICEHL), Davide Fadani (Lugano / vc.).
Armor: Lorenzo Casetti, Gregorio Gios, Enrico Miglioranzi (all Asiago / AlpsHL), Dylan Di Perna (Ritten / Renon / AlpsHL), Daniel Glira (Pustertal / ICEHL), Alex Trivellato (Bolzano / ICEHL), Phil Pietroniro (Mylhzy / Fr.) , Peter Spornberger (Schwenningen / Nm.).
tonci: Ivan Deluca, Dante Hannoun, Matthias Mantinger (vichni Pustertal / ICEHL), Daniel Frank, Luca Frigo, Marco Insam (vichni Bolzano / ICEHL), Marco Magnabosco, Daniel Mantenuto (both Asiago / AlpsHL), Simon Berger (Pustertal / Val Pusteria / AlpsHL), Diego Kostner (Ambri-Piotta / vc.), Simon Kostner (Ritten / Renon // AlpsHL), Brandon McNally (Cardiff / EIHL), Alex Petan (Szkesfehrvr / ICEHL), Marco Sanna (Cortina / AlpsHL), Tommaso Traversa (Sheffield / EIHL).