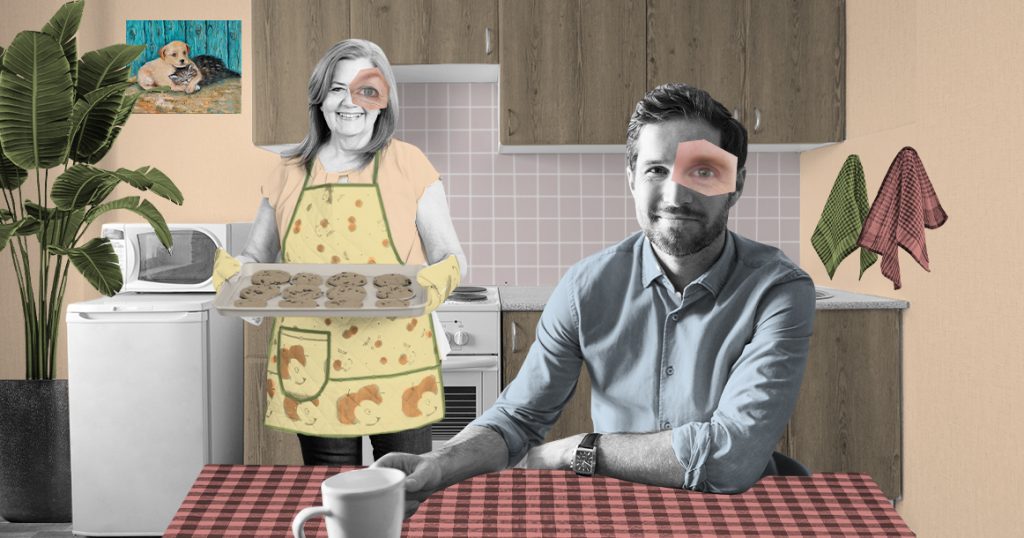 There is nothing more fun than an avid bachelor: he dances while he is young, wears roses to his girlfriends for birthdays. Celibacy is a principled male position, and not something that God has deprived of beauty or lack of money to impress. The bachelor is alone because he definitely wants it. He is so good, comfortable and entertaining. He slurps life from a large tureen and even pities his peers a little with their reverence for duty.
But there is another kind of men who actively mimic such joker bachelors (sometimes quite successfully). But if you look closely, then a running line begins to shine through the bangs: "I'm a mother."
A man who is over thirty and still lives with his mother is a separate category of a Muscovite. Most often indigenous. The one who "sees no point in paying for someone else's apartment, if you can still live with your parents and save for your own." The process of accumulation, as a rule, is delayed for an indefinite period. It is understandable, because Moscow is a toothy city, wages do not always keep pace with its appetites. So it turns out that the piggy bank mattress still does not gain weight, but, on the contrary, even slightly squeezes in unexpected places. And then there's some kind of financial crisis or mid-life crisis. The first installment for a mortgage is still distancing itself – you need to get back on your feet, overcome injuries, make up for financial losses, improve your skills so as not to fall out of the category of demand. There would be a desire, as they say, but there will be urgent problems.
Such a man in itself, in general, even nothing. He has long been collecting dust on the mezzanine of a decent institute diploma, a work book full of various feats, not bad-looking, travels and develops, but somehow he still does not leave his parents' house. You can't part with the feeling of absolute comfort and tranquility: the underpants are always clean, the room is cleaned, the bed linen smells like alpine meadows, and if there is no dinner for the evening, then mom will quickly build it. In extreme cases, it will be built by a courier from the delivery – no need to think about the abolition of independence. It's all right here. We are not talking about a son instead of a husband or the totalitarianism of a tired, hunted woman whose child (even if it is an adult briar with bristles) is the light in the window. We are talking about practicality and convenience: it's just that it will always be comfortable with your mother, but no one promises such goodness with your wife. Yes, and they are needed, all these wives, then? God forbid the child decides yet, and then goodbye, quiet evenings with the PlayStation or a bar with friends on Fridays. Will the wife pour compote from a hangover? Bake Khvorost cookies for no reason, but simply because you wanted to? This whole possible future life is some kind of pig in a poke. Black box. Why try something else if the routine is good enough? Best the enemy of the good. Appreciate what you have and remember the bird in your hands.
No, of course, it happens that someone else appears in the house. Some random tinder girlfriend. Not a bad girl in general, but still with some incomprehensible pens about separate housing. Why modify reality if everything is already arranged well? Why strive to separate into a separate apartment, if there is a room, and it is even locked? Turned twice – and here you have a closed personal space. And then what, mom is so bad? Don't knock on the door before entering? Calm intelligent woman. With a good heart and positive qualities. All her life she raised a child alone, worked as hard as she could. At work, she is respected, her relatives appreciate her. In house chats, they address only by name and patronymic.
In general, girlfriends do not stay long. It's not even about the banal competition for cooking pancakes on the same kitchen plane or finding out who put the shower gel on the shelf with household chemicals. But just why is it needed at all? Where is the door to exit the comfort zone? Let's go out into it together and go about our business. But there is not much to do while you live with your mother. You can only take care of yourself. In short, you need – you go. And I'll still live here. I'll reason about being, put things in order in my thoughts.
One more note: mom will always support. How many times this happened in difficult moments of fate. Almost flunked the gosy, fired from work, gave promotion to a neighbor in the chair – he always knows what to say, what to do, even without delving into it too much. After all, we've been together for so many years. One raised eyebrow can tell the essence of things. No additional stories needed. And what about the wife? And the girl? She didn't spend her childhood on this playground outside the window, she doesn't know why Pyaterochka is still called "glass" around the corner, she didn't see his plasticine crafts in elementary school. He does not notice his sensitivity and vulnerability. How many years do you have to live to make up for these voids? To be the same as used to? And then, all these women also have their own lives. They also need support and participation. Is there any strength for this? Alas, we still live in Moscow.
A man who lives with his mother is a romantic who puts off his dream for later, because its implementation is not particularly required. It is enough just to imagine it, for example, before going to bed, and the rest of the time to live in the present. I must say that this present is quite nothing to itself: comfortable, calm. He is a good worker and a great colleague. It is not eaten by the environment, it is not ruined by the monotony of rented apartments with the same refrigerators and microwaves. He does not borrow money until payday, does not complain that life does not add up, does not bother with stories about unhappy love. They say about such people: "Decent", meaning that one should not expect any troubles, because good breeding does not allow much. Yes, and you don't need much. Everything about him is calm and rational. Both at home and in the soul. Just good, and even better.