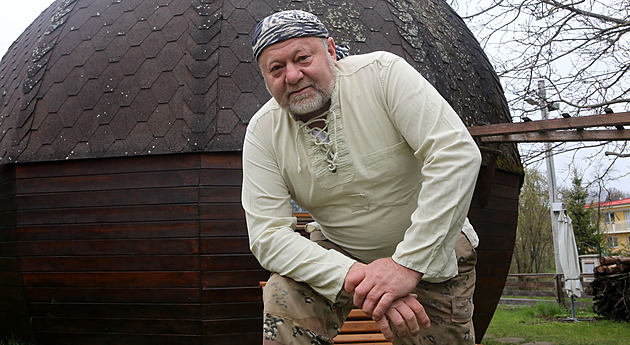 Josef Urban led the student internship for 17 years as an industrialist. "Over more than 30 years, education has changed, not always for the better. The changes often also affected children's interest in the fields. The interest stems from the company's point of view in individual fields. More than twenty years ago, we saw a surplus of university-educated intellectuals in France and elsewhere in the West for whom the state has no job. But craftsmen and technicians would pay in gold, "said the award-winning artist.
We did not learn, so today the situation in the country is similar, warned Urban. "The word work is not in, and the newly opened classes at grammar schools have also been joined by pupils who used to go to high school graduation courses, even though their grades did not match. But we had to democratically give everyone a chance to do the school they wanted. So more students started going to technical schools who, if they went to the apprenticeship, would be good craftsmen, "he says.
I am convinced that one must have innate preconditions for good pedagogical work. The teacher must be the heart of the actor. They have to create a performance from which the students effortlessly learn to learn
Josef Urban, Teacher of the Year
"The tugs, who were smart and mastered the craft, almost disappeared from the fields of study. It can be seen in the class I had twenty years ago. They were trained in the field, some graduated. Of the sixteen students today, three are engineers. Two remained in the industry, working for a foreign company and now in Germany. One has a doctorate from the Czech Technical University in the field of aircraft engines, has a company and teaches at a university. Such people also went to the school, "he added.
And how is it today?
Unfortunately, such pupils lack technical schools. In the last two years, the situation has improved a bit, parents are probably getting smart. They no longer want just a warm place for their children, which they do not enjoy, because it is often beyond his power. And when students learn and prepare for what they will benefit from, they must feel good about it. That they are chasing and enjoying it. Otherwise, everyone is worried and the result is not worth much. And that's a shame for everyone.
A former student nominated you for the Teacher of the Year of the Olomouc Region. That must have pleased him, didn't it?
I was pleased with the award, especially from a former student I taught twenty years ago. But I'm not particularly proud of my title. It is a statement from the state in charge of education that I did not do the job completely wrong. But there are hundreds of people like me who have not yet been convinced that they are officials. You can't learn because of money or awards. If people do not feel love for their profession, it is always wrong. But it is necessary when working with people. I was lucky to know what I would enjoy, and despite various obstacles, I got to it. It was my ninth job and finally the right one.
Josef Urban
He was born on May 30, 1957 in Nové Město na Moravě, and spent his childhood in Jimramov. He has lived in Hustopeče nad Bečvou since 1982. He trained as a forest worker, graduated from a woodworking industrial school in Hranice, obtained an apprenticeship certificate in the field of carpentry and studied pedagogy in Olomouc. He taught Furniture and Woodworking at the Secondary Industrial School in Hranice for 31 years, of which 17 years as a supervisor. Now he teaches only occasionally. Hobbies: family, carving, aviation, photography.
Don't be convinced you're a clerk… What do you mean?
The important thing was that I got a chance from the school management to do it the way I felt, and I cheated the paperwork to the lowest possible level. Nevertheless, I was often worried that I was doing well enough for the students to learn as much as possible. I told them I loved them, so I would be as strict with them as my children to learn. That if I don't like them, I'll leave them alone and I won't want anything from them. But they had to feel confident that it wasn't unnecessary that I would really take them where I promised.
Do students inspire you?
The inspiration from the students is great for me. It is my duty to find out where they are going, what they are interested in, and to try to prepare knowledge so that it is close to them. Otherwise, they would not accept it, and violence will be stored in the mind as violence, not as a pleasant stimulus of cognition. Great energy is in what they live for. They are young, unworn, with ideals and it charges a lot. One feels that it is aging more slowly, if at all. I have experienced what older people enjoy about work and what problems they solve. This is not a threat for students, they solve something completely different and it is basically nice to share some of their worries.
Have you found a recipe for students without interest to like the field?
First I found out who has the prerequisites. I sacrificed one hour and let the students design and make something for themselves. Anything. It was unusual for most, they reacted differently, but they all showed their essence. Some imitated, played with the phone, others were uneasy, but tried something, a few came to ask and the smarts took it as an opportunity. These were the personalities who wanted to move forward. All that was needed was to guide them and help with appropriate advice. I had to show the others that the path I offer is the best for them. It took everyone differently than they wanted to move forward on their own.
How big a role does praise play?
Huge! Everyone wants to be praised for their efforts. They don't want to be dishonored again because they don't know or can't. They know it, they oppose it and they do only what they want. This is coercion, not learning. I have found that if I have nothing to praise them for, it is my fault. I set the bar wrong. But everyone makes mistakes in learning. It is necessary to encourage and advise so that a mistake does not occur. Once they tried and the board worked, it was won. They knew how to come for the praise, for the feeling that they were good. If they feel it, and they feel that I'm doing it for them and with love for them, it goes by itself. I was glad to make them happy that they did it better than I did. Sometimes I made a mistake and waited. Of course, the better ones came forward and my thank you for them was much more than two director's compliments or a mark.
If you were to brag yourself, what would it be?
About twenty years ago, my colleague and I found out that primary school students do not have workshops. That's why we invited eighth and ninth grades to our workshops and let them work with wood. Many of them came to our school to study. I am glad that it is still going on, also in other schools and fields.
What kind of teacher should he be?
I am convinced that one must have innate preconditions for good pedagogical work. The teacher must be the heart of the actor. They have to create a performance from which the students effortlessly learn to learn. He has to respond at the right time with a suitable replica to keep everything tense and running, and at the end of the hour to feel: I got them today! He captivated, captivated, and got the violence I intended without violence. It is not possible to impress everyone one hundred percent. Everyone is different and has the right not to share the same values. Pupils need to be clearly told that they have the same value. That no one is worse or better. They are just different and have every right to choose their path and the way to go. Respect their freedom and give them responsibility. Learning is therefore improvisation in a prepared framework, where everything can change every second and the teacher must keep the goal.
Then did you learn well?
I learned well mainly because I was able to lovingly introduce students to the most beautiful material, which is wood for me. Teach everyone that just like they are each other, but no one is worse or better, so different woods only have different properties. Better or worse, it is up to them to make good use of these qualities. My hobby, which became carving, also helped me a lot. I don't like to copy reality exactly, rather I try to use the beauty already hidden in the wood. Uncover the story of the tree, indicated by drawing, knots, color so that it is legible for others. To keep the wood from serving and pleasing. I tried to pass on this vision of wood to the students and I succeeded in a few.
You have also created a number of works that we can admire in the city streets.
After the timid beginnings, I had several exhibitions, I have carvings scattered in our country and around the world, perhaps the furthest in California. From the larger works, I made two four-meter outdoor sculptures from centuries-old oaks. The statue called Bečva stands at the primary school in Hustopeče and the other called Brouček on the square in Jimramov, the birthplace of me, Jan Karafiát and the Mrštík brothers, as I like to say.
You are also the author of the nativity scene in Hustopeče. You have been working on it since 2016, adding more characters every year. Is it done yet?
I have one more peasant woman left and two sheep that I would like to finish this year so that they don't stand sadly in my barn. I'm glad I've been given a lot of things to do, and I hope I'll have some more strength.
You also made bowls for the last two Czech presidents.
One to Mr. Klaus during a visit to Hustopeče nad Bečvou. It was a bowl made of walnut spice in the shape of a republic with a carving of Prague Castle in Bohemia and Hustopeče Castle in Moravia. It is interesting that after about ten years, Mrs. Špidlová bought a bowl of the rest of the wood online for her husband, the former prime minister, for her birthday. The second bowl was for Mr. Zeman when he visited our school. He wanted wedding cakes so there was something to give them.
What are you most proud of?
I am most pleased to be able to communicate directly with children and adults, show them the beauty of wood and help them prove that they are good when they create something for themselves.
Petra Černobilová
editor MF DNES
Photo: Libor Teichmann, MAFRA
Back to browsing