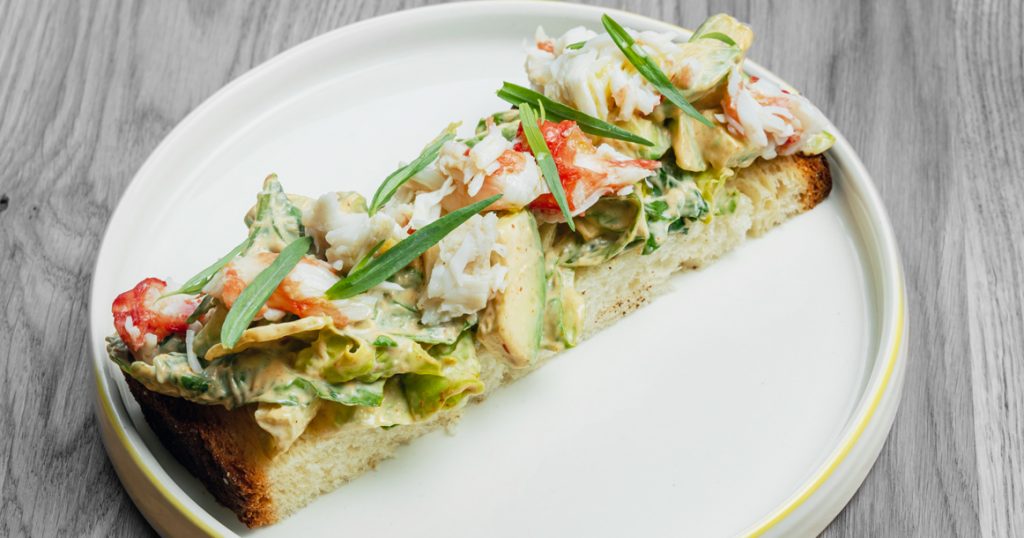 Mates on Usacheva, 11a — continuation of the development of a network of small cafes with sandwiches and pizza (one on M. Bronnaya, 16, another on Mantulinskaya, 5, building 11, the third on Leningradsky Prospekt, 29, building 3). The kitchen of the new Mates was headed by Vladimir Revenko (KM20, Jerome). Cosmopolitan menu, signature sandwiches and a two-story bar with wine tastings on weekends.
Pros:
– Pizza with seafood costs 1450 rubles. Reference amount of squid, shrimp and mussels. Cozy, thick taste of tomato sauce. Fresh and fragrant spicy greens, as well as a slice of lemon – these thoughtful little things are here for an additional summer mood (eat and feel carefree, like on vacation). The baked and thin dough of the base cake put my dietary conscience to sleep for a while;
— incendiary shrimp ceviche (670 rubles) with pineapple and ginger — this, of course, is a fantasy on the topic, but everything turned out pretty;
– festive bruschetta with crab (1100 rubles) is based on a chunk of rich and sweet brioche. Lots of crab, plenty of avocados. Lettuce leaves are elastic and crunch pleasantly;
– the painting "Tuscany" by the artist Ilya Gaponov on the wall adds even more air and elegance to the space;
— a significant discount (20%) on all takeaway food.
Minuses:
– a weighty amount of crab on bruschetta, unfortunately, is lost against the background of green leaves. The crab is too tender, and the leaves (in seasonal juice) overshadow it.
Photo: courtesy of the PR department of the Mates restaurant