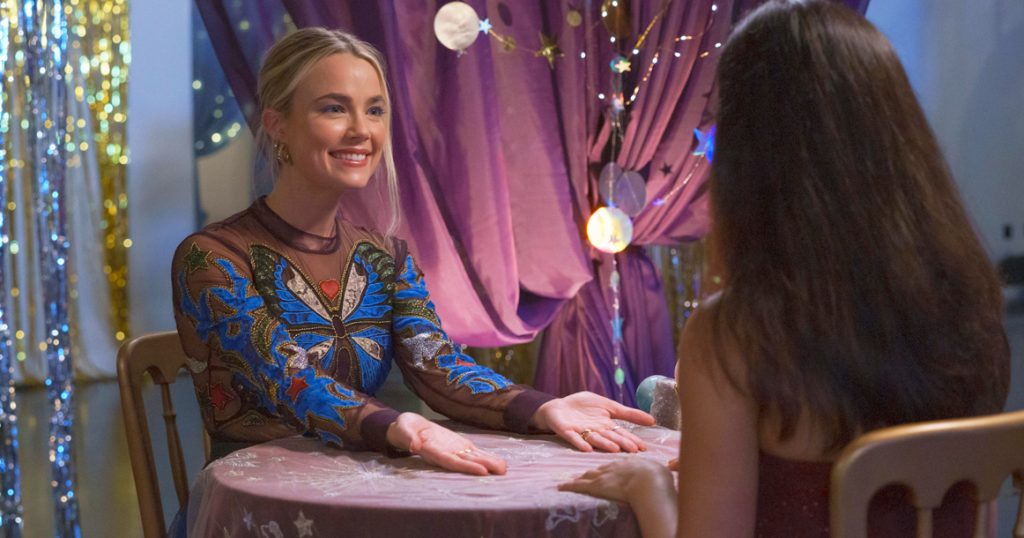 Twenty-two years ago, the hero of Mel Gibson from the movie "What Women Want" learned to hear the thoughts of the surrounding females, including animals, on his own head. The gift of clairvoyance turned out to be excellent material for a romantic comedy, but in the future it was not really used.
Now it is this ability that Hulu has adopted with its Maggie series. Its title character (Rebecca Rittenhouse) is a clairvoyant, and this ability not only allows you to earn money, but also creates constant problems. She sees the future of everyone she touches, and therefore makes friends with difficulty and cannot build a personal life – it is difficult to fall in love when you know in advance when and how the separation will come. She also has a friend who is not very lucky in love – yoga instructor Louise (Nicole Bloom) and mentor – clairvoyant black gay Angel (Ray Ford). One day, everything changes: a smiling Ben (David Del Rio) sits down at the fortune telling table, and Maggie sees that in the future she will marry him and give birth to a child. The problem is that she has no idea when or how it will happen, and the visions get complicated and confused with each touch. After a brief fling, Maggie and Ben break up, and a couple of weeks later he moves into the second floor of Maggie's duplex with his girlfriend, Jessie (Chloe Bridges).
Already in the second or third episode, you are surprised to find that "Maggie" was filmed as a classic sitcom about fifteen years ago. Recently, the series How I Met Your Dad tried to enter the same water, but the attempt was unsuccessful. The authors tried too hard to match the spirit of How I Met Your Mother, and as a result, the spin-off turned out to be lifeless. Although Maggie uses the same tricks (including lighting on the site almost in the image and likeness of Friends) and does not fall in love with herself right away, she may well take the place of "shameful pleasure" this season.
This is a wonderful main character. Rebecca Rittenhouse looks like a slightly simplified version of Margot Robbie, not only in appearance, but also in terms of charm (it is interesting that she has a bit part in Once Upon a Time in Hollywood on her account). The second plan does not lag behind. The subject of romantic affection in the form of a cheerful school teacher Ben, we admit, turned out to be so-so, but Louise and Angel are bright and funny characters, on which a lot rests here. The same goes for Maggie's parents – they were played by Kerry Kenny and the wonderful comedian Chris Elliott.
In addition, the authors perfectly understand the genre schemes: the dialogue is written densely enough to hold attention (and not pay attention to the absurdity allowed for a sitcom). And, finally, the main achievement of "Maggie" is, as already mentioned, clairvoyance. The abilities of the heroine here are not for show – on the contrary, the visions are worked out and occupy a key place in the plot. Not only a romantic line is built on them (which in the future will last for five seasons), but also most of the gags. All this palmistry perfectly fits modern viewers (first of all, of course, spectators) who are passionate about life planning, taking into account zodiacal compatibility and the movement of the planets.
Photo: Hulu