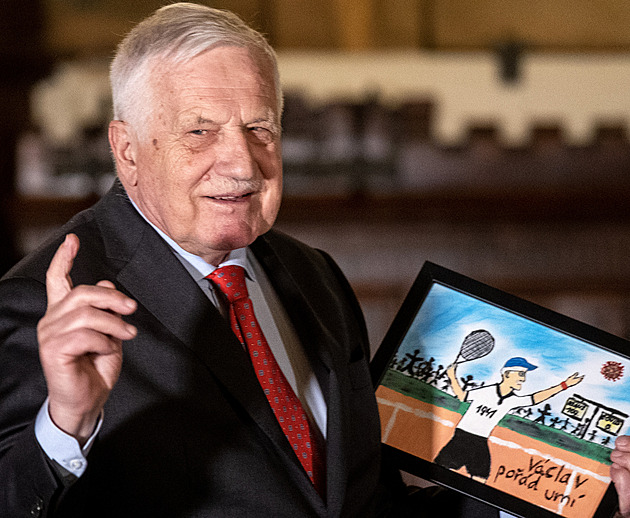 Judges of the Constitutional Court have immunity, and the Senate must agree to prosecute them. If the senators do not give their consent, the constitutional judge cannot be prosecuted during his term of office. Pavel Rychetský wrote to ČTK in an SMS message that he would not comment on the matter.
Macinka filed a criminal complaint at the District Public Prosecutor's Office for Prague 4 on Friday. Rychetský's statement from an interview on Radio Frekvence 1 on April 26 bothers him. Rychetský spoke when asked by the moderator whether he was bothered by some statements by Klaus or former Prime Minister Andrej Babiš (YES) in connection with what was happening in Ukraine. Rychetský said that he did not consider it appropriate to comment on Klaus or Babiš's statements. "I even got the feeling that, directly or indirectly, the Václav Klaus Institute is probably somehow financially supported by the Russian side, and therefore undoubtedly plays a role, as I would say, just like the Russian trolls, that is, support for something so shameful. and barbaric that it really doesn't deserve to be taken seriously in any way, "he said. When asked by the moderator whether he meant Klaus directly, he said yes.
According to Macinka, the Rychet team reported a lie about Klaus and his office about financial support from Russia. According to Macinka, he committed the crime of defamation, for which he would face up to two years in prison or a ban on activity if convicted. At the same time, Macinka believes that Rychetský could have committed the crime of false accusation by saying about Klaus and his alleged support for "something so shameful and barbaric".
Macinka refused that the institute would be financially supported by an entity from Russia. He said in the text of the criminal report that Klaus had condemned the Russian aggression and there was no evidence that he would downplay it. Therefore, according to him, Rychetský purposefully used a lie. At the same time, he pointed out that, due to his position, people do not consider Rychetský's statement as a "commentary opinion", but as information or as a "confirmation of a certain fact by the Constitutional Court".
Ukraine and Russia are divided by a gap in opinion, Klaus said. He called for peace
Macinka said Klaus knew about the criminal complaint. "I informed President Klaus about my intention to file a criminal complaint with the President of the Constitutional Court, but we did not consult the content of this statement together. I did it purely as a private person, who was extremely outraged by the statements of Pavel Rychetský on the radio, "he said.
Former President Klaus commented on the situation in Ukraine several times, on February 24, the day Russia attacked Ukraine, saying, "The attack on a sovereign country is unacceptable and needs to be condemned." In an interview with Frequency 1 in April, he called the war in Ukraine a crime, a tragic mistake, saying it could not be justified.
Asked if he condemned Russia's behavior when he saw footage from Buč or Mariupol, for example, he said he did not make a living by "watching these pictures." "It simply came to our notice then. On the other hand, it would be good to know what is really an authentic photograph and shot and what is the propaganda propagated from it, "he said. "War is just evil. And all that is happening is an accompanying, inevitable phenomenon, part of every war that has taken place in human history so far, "Klaus added.
Human rights group Amnesty International (AI) said on Friday that there was irrefutable evidence that Russian troops had committed war crimes around the Ukrainian capital Kiev. The organization conducted interviews with dozens of residents in the village of Buča and other places where mass graves were found after the departure of Russian troops. Interviews and photos were published by AI in a report entitled "He will not return".