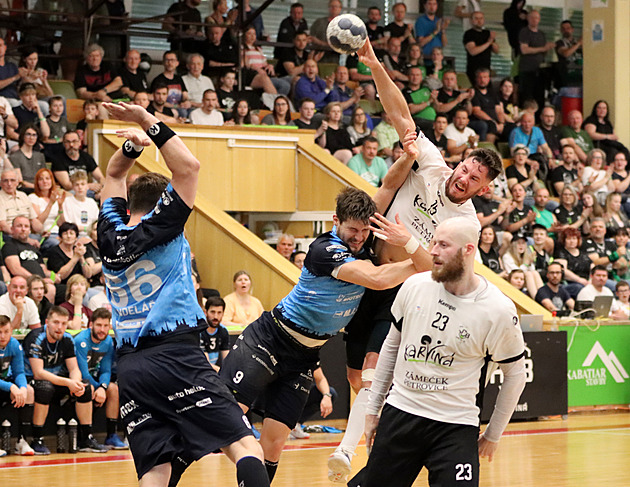 Vojtěch Patzel from Karviná is trying to shoot Tomáš Nejdl from Pilsen.
| photo: Jiří Seidl, MAFRA

"We have the first point, but the series is played for three wins, so it doesn't mean anything," said Dominik Solák from Karviná. "It's a bit of a psychic boost for us, but it will be decided in the next matches."
How much did it help you that your opponent was already weakening in the third minute?
We took advantage of it a bit and thanks to that we led. But it's handball.
So they didn't surprise you with a hard match?
No. This is their game. They are known for being able to tighten. They have an experienced team. After all, we've been playing with them for some time. We know they present themselves that way. They have a well-executed defense 1 – 5. It points a lot. But we also started hard and defended quite well, we helped the goalkeepers who supported us. And I have to praise the young David Růža, who played fantastically today and took his chances perfectly.
How did you lose Pilsen, that you never let it lead?
We went for it with our heads and commitment. We led 5: 0 right from the start. We surprised them a bit and we had more strength, we were well prepared for them, even though we made mistakes. But you always will. It could have ended with a bigger difference, but the first point is important and by the end the match was over.
What can be expected from the second duel on Wednesday in Pilsen?
We just have to rest now, watch the video. We don't have much to surprise anymore. It will be about the bigger heart we had today. Everyone who got on the field showed a great performance. We could count on each other, which was obvious. And I have to thank the fans for a great backdrop.
You missed the quarterfinals due to injury. Have you gotten back into the pace?
Well … It's not 100 percent yet, but I'm able to play. I'm glad I can help the boys in some way. I'm happy that I play and that we lead 1: 0.