But the Tsaritsyno market will be turned into a multifunctional complex.
Generally speaking, from the point of view of ease of use of transport, it is really time to modernize this area – last year, the Tsaritsyno station became most loaded among the entire MCD, it is used by about 120 thousand passengers a day. But, despite this, buses go to her crowded, and passengers changing to the subway are forced to crowd on narrow sidewalks. Not to mention the fact that the environment of the station has not changed since the nineties, and there are still blue cabins of bio-toilets standing next to the subway exit and exuding appropriate smells.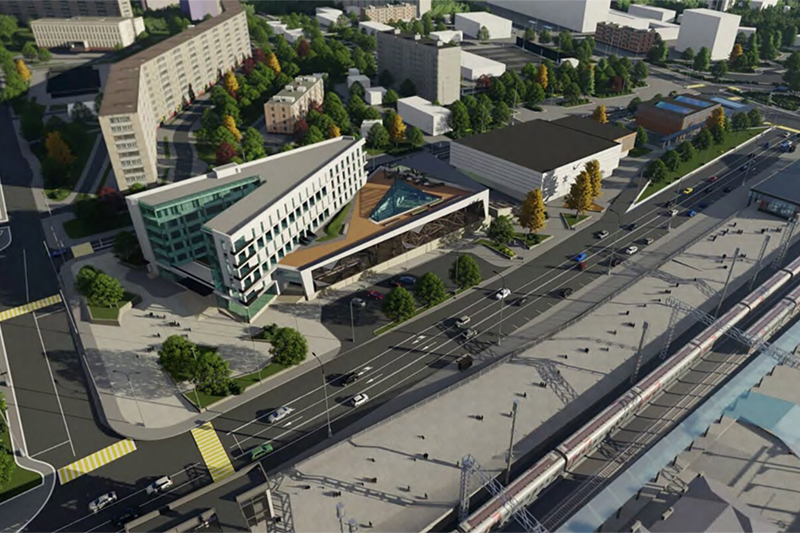 Based on all this, the stations decided still create a transport interchange hub, and one of the largest. To do this, first of all, they will build a passenger terminal (or, as the mayor called it, a "city station") with a waiting room, ticket offices, an information center, Wi-Fi, a cafe and other amenities. In addition, a new exit will appear at the Tsaritsyno metro station – it will be built at the intersection of Kaspiyskaya and Luganskaya streets, and at the same time the southern lobby will be modernized, and the pedestrian crossing from Novotsaritsynskoye Highway to Kaspiyskaya Street will be expanded.
Like most TPUs, there will be a shopping center here. True, they will not build it from scratch, but reconstruct the Tsaritsyno market (however, it is possible that the "reconstruction" will be as in the case of "Olympic"- by the method of complete demolition and construction of a new one, since on the presented renders the shopping center building does not look like a market building at all). And a hotel will be built nearby, which can turn into apartments at any time.
In addition, the area around the TPU will be landscaped and, most importantly, sidewalks will be expanded. In general, the plans can be considered ambiguous, but passengers really should become more comfortable.
Photo: stroi.mos.ru