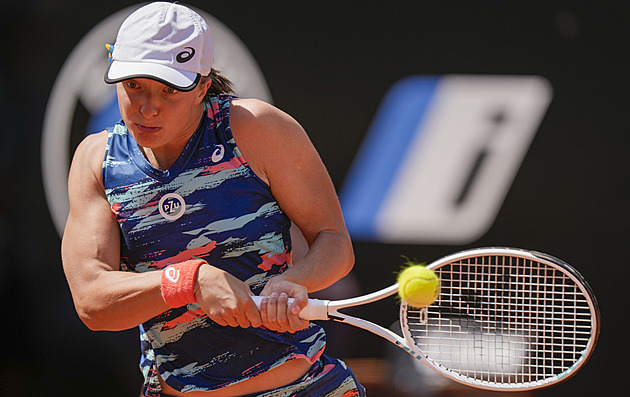 Polish tennis player Iga Swiatek in a duel with Victoria Azarenkova from Belarus.
| photo: AP

The defending champion Šwiateková had a job with Azarenka mainly in the first set, which lasted 80 minutes. Thirty-two-year-old Belarus led 3-0, but then the twelve-year-younger favorite with five won games turned around and advanced to the quarterfinals.
After triumphs in Doha, Indian Wells, Miami and Stuttgart, Swiatek is aiming for her fifth tournament victory in a row. The last time the American Serena Williams, had a longer series than the current Warsaw native, who won 27 matches in a row at the turn of the 2014 and 2015 seasons.
In the men's part of the tournament, the Greek Stefanos Tsitsipas defeated the Russian Karen Khachanov 4: 6, 6: 0, 6: 3 and scored the 29th win of the season, which is the best on the ATP Tour this year. The winner of the Rome tournament in 2017 and the finalist from last week from Madrid Alexander Zverev from Germany defeated Australian Alexander De Minaur 6: 3, 7: 6.
The attractive duel of grand slam champions Novak Djokovic and Stan Wawrinka was a clear matter for the Serbian world number one. The five-time winner of the tournament, Djokovic, defeated the Swiss returning after an hour and a quarter 6: 2, 6: 2 and advanced to the quarterfinals in Rome from 2007 for the sixteenth time in a row.
The final hit of the day will be a duel between ten-time champion Rafael Nadal and Denis Shapovalov.
Men's and women's tournament in Rome
clay
Men (subsidy 5,415,410 euros)
Singles – Round 3:
A. Zverev (2-DEU) – De Minaur (Austr.) 6: 3, 7: 6 (7: 5)
Tsitsipas (4-GREECE) – Khachanov (RUS) 4: 6, 6: 0, 6: 3
Djokovic (1-SRB) – Wawrinka (Switzerland) 6: 2, 6: 2
Auger-Aliassime (8-CAN) – Giron (USA) 6: 3, 6: 2
Sinner (10-It.) – Krajinovic (SRB) 6: 2, 7: 6 (8: 6)
Garín (Chile) – Čilič (Croatia) 6: 3, 4: 6, 6: 4
Women (subsidy 2,527,250 euros)
Singles – Round 3:
Šwiateková (1-Pol.) – Azarenková (16-Běl.) 6: 4, 6: 1
Teichmannová (Šv.) – Rybakinová (KAZ) 6: 7 (3: 7), 6: 3, 7: 5
Andreescu (CAN) – Marticova (HRV) 6: 4, 6: 4
Sabalenkova (3-BEL) – Pegula (13-USA) 6: 1, 6: 4.
Anisimova (USA) – Collins (7-USA) 6: 2, 6: 2
Doubles – Round 2:
Aoyama, Chan Chaoqing (8-Jap./Taiwan) – Ostapenkova, Karolina Pliskova (Lot./CR) 6: 3, 5: 7, 10: 7
Hradecka, Mirzaova (6-CR / India) – Rybakinova, Samsonovova (Kaz./Rus.) Bez boju