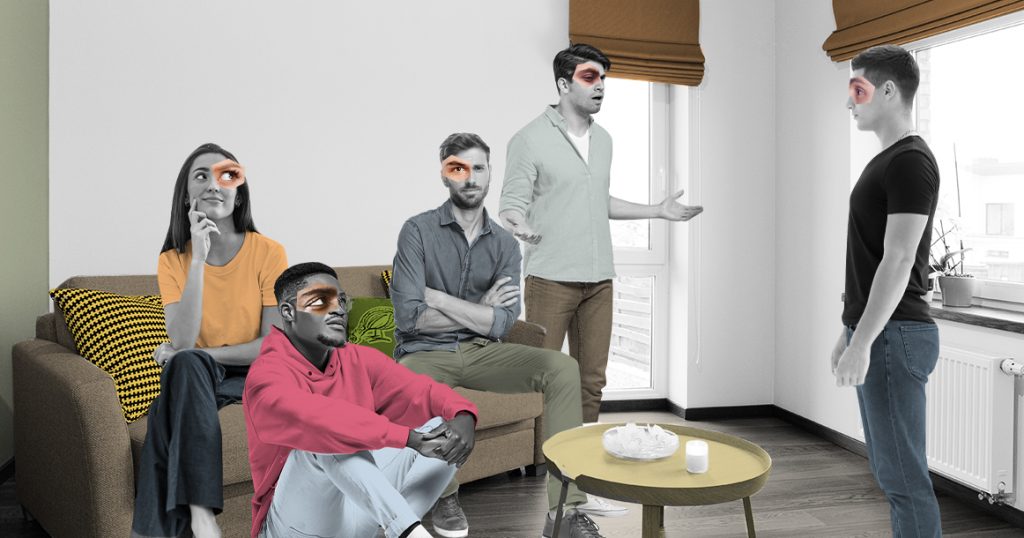 The first rented apartment is like the first sex. Her search is an exciting, in its own way intimate experience for everyone, but maybe not all of us are pleased to remember this experience. I embarked on my first search in Moscow on the eve of the new year 2020, not yet suspecting that this was far from the biggest stress that the year was preparing for me.
At that moment, everything was somehow especially bad with money – I was looking for up to 20 thousand rubles in the category and, moreover, I categorically did not agree with the near Moscow region and Novomoskovye. Naturally, we were talking about a room – preferably with no more than one or two neighbors. Preferably acquaintances (for some reason it seemed to me then that the risks were less). In total, in the next eight months, I moved 7 (seven) times.
The first option was found on Stromynka – there I got along with the owner, but did not get along with the neighbors, one of whom turned out not to be slightly indulging in illegal substances (as I honestly guessed), but thoroughly addicted to them.
Fortunately, a friend had an empty apartment in New Moscow with an almost completed renovation, so I romantically sat out the first wave of the pandemic with the most stringent restrictions with a panoramic view of the Meshchersky forest and the half-dead Vnukovo airport.
By Easter, I found an option on the "Rimskaya" / "Ilyich Square", they are also Moscow-Tovarnaya, they are also Rogozhskaya Sloboda. In the lands of the Old Believers, I did not take root according to the mirror scheme: now everything was fine with the neighbors, but I did not get along with the owner.
Then I moved to the wonderful Shelepikha in a brick five-story building 30 meters from the entrance to the new empty metro and 200 meters from the river. From the embankment along the residential complex "Heart of the Capital", after a walk along which the lines began to spin in my head "She would like to live in Manhattan and share secrets with Demi Moore, but she has to live in Vladykino and share secrets with Zykina." But the main thing is that here, it would seem, there was a reliably selected neighbor who does not use anything. And it had to happen that a month later this damn zozhnik started an affair and instead of me wanted to move his "half" into the second room. Just because it can. After all, if all contacts with the owner are through you, then why not?
Another failure finally pushed me to work on the bugs. With such a limited budget and indefatigable requests, it was impossible to try to save even on the realtor's commission and search through friends and acquaintances.
I had only to accept this, and an apartment in the embassy quarter on Mira Avenue was found in just a couple of weeks for 45 thousand for two. The contract was drawn up for me, and in case of any conflicts with the new neighbor, I would have evicted him, not he me. As luck would have it, this neighbor turned out to be the sweetest person, and until my very departure from Russia, we lived in perfect harmony.
I have been in Berlin since March 19th. In a month and a half, I found a job that (in the long term) comes with a residence permit, and I thought that the main problem was over, but that was not the case.
There are cities whose supply organically ceases to cope with demand. In terms of tourism, the two most textbook examples are Venice and Barcelona. In a purely housing and hotel context, Amsterdam can perhaps be added to them – there are too many people who want to, and there is nowhere physically to build new housing. The same with Berlin – its real estate market has long been choked with tourists, investors and expats of all kinds, and the city parliament is seriously discussing the most socialist price controls. In addition, German courts and legislation are just as unambiguously on the side of tenants in disputes with landlords, as the Russian TC is on the side of the employee in conflicts with the employer.
So, let's imagine: what would happen if Russia cleaned up the consequences of the special operation, all sanctions would be lifted, and the regulation of the rental market would protect tenants just as firmly.
First of all, without registering in Moscow (as I am now in Berlin), you would not be able to officially rent anything except hotels, hostels and apartments for rent on Airbnb. Is it okay that long-term rental housing is needed to obtain registration? But nothing.
Secondly, the demand for informal rent (sharing in a free room or for a couple of months when the owners are away) is such that after registering on the corresponding site for fifty ads, you will receive zero reviews. More precisely, two, but in both cases, the "landlords" offer to transfer the advance, and their ads have already been removed from the site marked "signs of fraudulent behavior", but that's a completely different story.
Thirdly and most importantly, homeowners in Moscow also have the opportunity to choose – if they are ready to rent at a price even slightly below the market. But in Berlin, this comes to the point of absurdity – even at the level of correspondence, they can ask you for a scan of your passport and income statements for the last months, and acquaintances of acquaintances who rent a room with six neighbors in an apartment – kindly invite you to a casting next Monday. All this at prices, of course, 1.5–2 times higher than in Moscow at the current exchange rate.
For example, here is a screenshot correspondence. Potential neighbors report: "We don't care who you are, where you come from or who you love. If you are interested in our ad, write a little about yourself and we will get back to you with an answer within the next week.
PS: oh yes, we don't consider covid dissidents!"
Number 2: "You will have a charming roommate from Argentina who speaks English, Spanish, Italian and is learning German. The apartment must be CLEAN and ORDER (ORDNUNG). As my experience has shown, I need a nether neighbor. Smoking in the apartment (including marijuana) is strictly not welcome.
Or here 3: "We donate, buy and cook food for everyone, 40 euros per person per month, everything is vegan and vegetarian. Everything you need for life is within a 5-minute walk from the apartment, from 24-hour stalls and a bio-bakery to a sex shop and a decadent liquor store."
And 4: "If you are looking for something communal, write – we will arrange a call and viewing.
PS: Our clothes are not common (at least not all).
And finally 5: "Hello! We are 9 people of different races who have been living in Neukölln for 15 years. Our house, unfortunately, has been trying to buy out entirely for many years (here linkif you want to learn more and fight for it with us). The room is very bright, in the courtyard outside the window grows a marvelous sprawling chestnut tree. The walls, however, are thin. We're having a concert in our backyard on Saturday, come by if you want to meet us!"
Lord, bring back Peace Avenue. However, in the very word "peace" in our times there is something almost extremist.