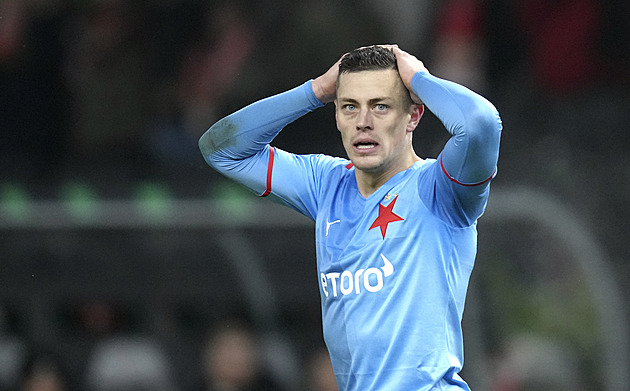 But they drew 1: 1 with Baník and will not win the first league for the fourth time in a row.
"There was little missing, it was close, I wanted to tighten the balloon with my instep under the crossbar so that Laštůvka wouldn't be able to do it. It was a few inches short, "Holeš sighed.
Ostrava goalkeeper Jan Laštůvka confirmed this: "I didn't even see the shot. If so, at least I'll raise my hands. Fortunately, the goal was well built. "
It didn't help the Slavists that they were already in the fifth minute, that from the 69th minute they played against the home team weakened by the eliminated stopper Lischka. They didn't push the ball into the goal even at the end, when their goalkeeper Mandous …
"We had several gaps in the second half, the home team kicked the ball out of the goal line," Holeš sighed. "It's a huge disappointment, of course. But we knew that the title was no longer in our hands, we had to rely on Hradec Králové, for example, to help us, which did not happen. "
The people of Hradec Králové lost 0: 2 to Pilsen, which is celebrating the title.
Did you even believe that Hradec Králové, weakened by Vlkanov and Mejdra, could beat Pilsen?
Honestly – when I learned that his two best players, who, like other teams, really bothered us, will not play, I knew that the people of Hradec Králové lost their strength ahead. I suspected that Pilsen would be able to do it there.
Didn't the pressure hit you in Ostrava to keep the hope for the title?
The pressure we have to have is, so to speak, every match. This is nothing new. In Slavia we have to win every match, otherwise there is a problem. The pressure is great and we have to deal with it.
But you didn't lose the title with a draw with Baník, did you?
We lost him in other matches, for example with Pilsen, with whom we did not keep the lead, with Karvin at home (0: 1). Also in other matches. Compared to last season, we lost a lot of those points.
What was that?
I would say that with a worse defense compared to previous seasons, when we managed difficult matches, for example 1: 0. It didn't happen to us that we got a goal when we were leading. We closed it and finished the match.
And what about an assembly that was not stable due to injuries?
There was no problem with that. There are so many matches that they cannot be played in one group.
At the same time, you entered the superstructure from the first place.
Yes, it was up to us. We went to it with the idea that if we win everything, we have the title, but the first match with Hradec came, which we did not manage, and that was one of the defining things of the superstructure. We scored a lot of goals for Hradec, but got four (3: 4), which is terrible. And if we and Pilsen can take the lead back in the league and lead, we will lose it again (1: 1). That was the problem.