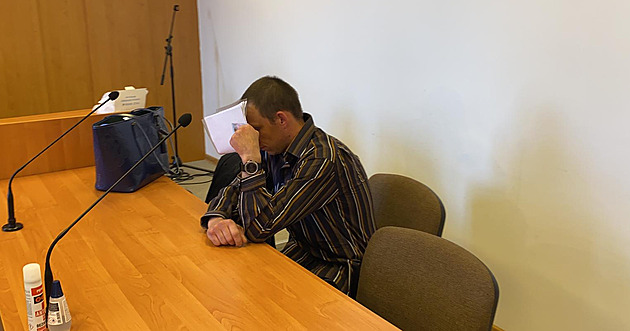 The accused 31-year-old Michael H. went to visit his grandmother in a nursing home in the Sokolovsko region on August 30 last year at five o'clock in the morning. He wanted her to lend him a thousand crowns. But the woman refused to give them to him, saying she needed to pay for lunch.
"The defendant first cursed the damaged, then strangled her, strangled her with a rag and then knocked her to the ground, where he stomped her foot in the face at least twice, causing multiple bleeding, fractures and other injuries in the face and head," he described the incident. public prosecutor.
According to him, the man then took relatives from the wallet of 2,500 crowns and another 200 crowns in metal coins that lay on the table. He left the helpless grandmother lying on the ground and walked away. The wounded woman then called her son, the defendant's father, who then came to her and called an ambulance. The senior was subsequently hospitalized at Sokolov Hospital.
Michael H. described in court today that he was at a disco until two in the morning, where he drank a few beers and shots of hard alcohol and someone offered him a "kind of white line" that was on the table. "It must have been gingerbread. "Everyone got it, so did I." he said. Then he reportedly went home, but because he did not have the keys, he decided to go to his grandmother.
I can't understand it, my father said
"I wanted some change for her bus to work. Fifty or a hundred, "Michael H continued. Then he reportedly sat down on his grandmother's bed and hit her. But he couldn't tell for sure how many times, where exactly, or how many times he had stepped on it.
"Then she got up, I pushed into her, she fell and banged her head on the featherbed. Then she fell to the ground. I stepped on her face, "the man who called his father after the attack described uncertainly. He told him to confess to the police.
When asked by the judge why he did this to his grandmother, Michael just shrugged. "I sent flowers to my grandmother at the hospital, and through the family that went to visit her, I told her I was sorry," the defendant said.
In court, his father testified as Michael went shopping with his grandmother and helped her. "I took my mom home on the weekends and Michael helped her. I can't understand this. She never told me she would lose her money. She loved him, "said the man in court, who admitted that his son had drug problems in the past. The woman died later of heart failure.