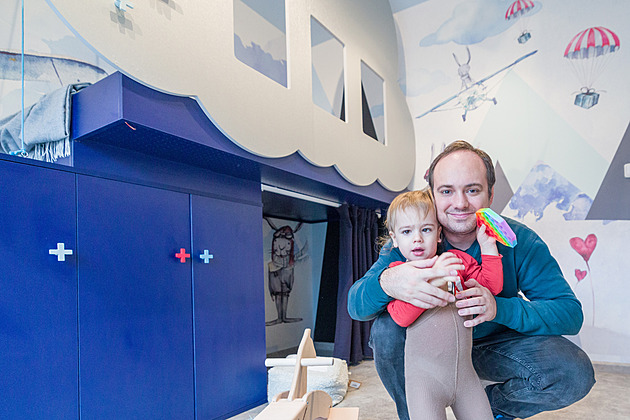 The sixth series of the show Bydlet jako…, which is broadcast by Czech Television, thematically follows up on previous series, in which the creators watch the furnishing of interiors in various styles. The team of designers with actors Jana Stryková and Roman Zach accompany the apartment owners from the "I like it" phase to the "I'm fine here" phase.
František is a small lively glider who likes airplanes. His father Stanislav is planning a new children's room for him, which should serve the siblings in the coming years. It features a bunk bed, a play area, a space to draw and relax. The room should be blue. The designer Markéta Daňková took on the task.
The room has everything you need after the transformation. Thanks to the custom-made furniture, the room has a games room, a large bed, storage space, a slide connected with ladders, a plywood table with teaching elements, chairs and various stepped furniture, which you can go to bed, but you can also sit and play on. yes.
On some walls there are original wallpapers by Markéta Daňková with lively hares, airplanes and a world map. Others are painted with washable paint, there was also a board sticker and magnetic wallpaper. An interesting and distinctive detail is a large cloud covered with aluminum foil with aircraft windows. This cover panel serves as a barrier for the bunk bed. The ceiling is painted sky blue.
Under the window and under the bunk bed there is a large amount of storage space in the form of cabinets and a podium (extended window sill) with drawers. Everything serves as a sitting area as well as stairs. The designer created a space under the bed measuring 90 × 200 cm, into which a second bed for a possible sibling can fit vertically. Until then, it is an excellent shelter hidden behind a curtain.
There is a library in the corner and there are also wooden children's ladders (climbing frame) with a slide and a swing. The lighting was solved by a light ramp with dots. The room is decorated with hanging paper origami cranes, which should bring happiness to the child.
Not only František, but also his father is very happy with the room. He especially likes the blue ceiling and the original wallpaper. He also enjoys a cloud bunk bed.