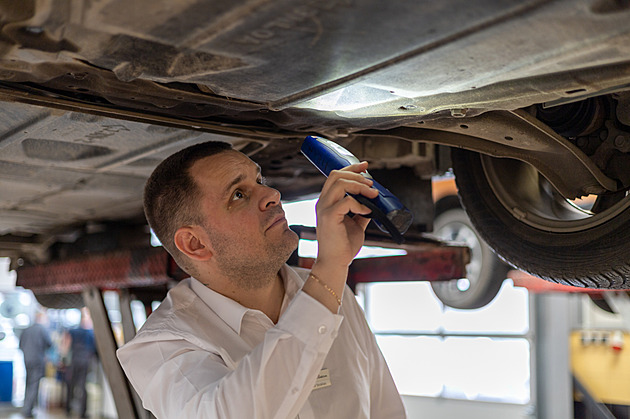 Servicing an electric car takes less time, but it is more demanding in terms of technical equipment, which is a burden on larger establishments. With a voltage of 400 to 800 volts, no "garageist" will play. The owner of the electric car will thus have to inevitably go to a branded establishment, which will logically have the investments it had to make in the electric mobility properly paid for.
"The automotive industry is undergoing a technological change as we move more towards electromobility and the associated digitization of service. With this change, there are also increased costs for education and subsequent training of staff, special equipment of operations and so on, which means that the rates for servicing the electric vehicle will be higher. On the other hand, owners of electric vehicles will save considerable funds for oil fillings, fuel filters or spark plugs, "describes the situation Pavel Boháč, Louda Auto's director of sales and marketing services.
However, it is basically impossible to say exact prices for the service today. More and more carmakers do not set the price uniformly, but leave everything to individual dealers. "Škoda Auto does not in any way interfere with the pricing of the service services of authorized partners in the Czech Republic and cannot by law. That is why setting the hourly rate is the exclusive right of the service, "says Pavel Jína from Škoda Auto Czech Republic. "We have canceled the flat rate for the service inspection. Concessionaires, as independent entities, set the hourly rate themselves, "confirms this fact also Radka Matthey from the Czech Peugeot.
But expecting electric car service to cost a fraction of the price compared to an internal combustion engine is naive. And it doesn't have to be a matter of robbing the consumer. We certainly do not want to defend branded services on a flat basis, there are certainly those that "burn" the price really high and without reason. However, it is also necessary to see that the dealers had to invest a lot of money in electromobility, both in equipment and in people.
"When inspecting an electric car, the dealer must light up, heat, pay a specialized mechanic, buy special equipment, etc. And these costs will be covered by the margins of the car with the internal combustion engine, while not for the electric car. So we have dealers who take these costs into account and use different rates for electric cars and other cars. On the other hand, some dealers do not take this into account, or only minimally, "says Radka Matthey from Peugeot. "In terms of development, it is clear that the more electric cars there are, the more dealers will have to take these other aspects into account and adjust rates to make the service profitable."
This applies to both mass and premium brands. "Leaving aside the standard service costs of electricity, water and gas, which have been rising rapidly in recent times, there are other factors, such as an extreme shortage of quality staff in all service sectors or parts whose logistics were paralyzed worldwide during the pandemic. Almost all raw materials for production parts are so much more expensive than they were in 2019, "explains David Haidinger from the Czech BMW office.
In terms of electric vehicle repair technology, it is much more complex and demanding than repairs of conventional vehicles with internal combustion engines and places higher demands on the qualifications of employees. At the moment, the hourly rates for repairs to the electric car and the combustion vehicle are at a comparable level and most likely will remain at the same level for some time to come. In the future, this is very likely to differ in that the diagnostics of purely electric cars will be more complicated, ie more expensive, "adds Haidinger.
More than before, it is good to find out the prices in advance when repairing or guaranteeing an electric car, because they can differ very significantly from dealer to dealer. The solution that some brands offer can also be the so-called prepaid service.