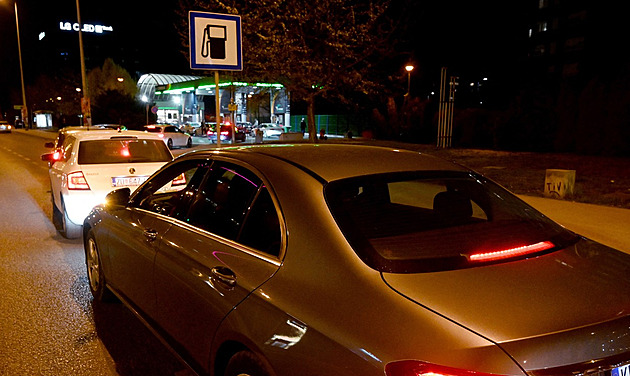 Convoy of cars at the Croatian gas station (March 2022)
| photo: Profimedia.cz

A liter of diesel will now cost 13.08 kuna (CZK 43.03), and gasoline will cost 13.50 kuna (CZK 44.41). The discount applies to basic types of fuel, not premium brands. On motorways, diesel and petrol prices are now approximately one kuna (CZK 3.29) higher.
Mr Plenkovic said the measure was aimed at "protecting the living standards" of citizens while enabling an "intensive tourist season" that he said could be more successful in terms of revenue than the record in 2019. The prime minister is not afraid that tourists will fuel prices now to avoid Croatian highways.
The price cap for fuels applies from Tuesday to two weeks. According to Finance Minister Zdravek Marič, the government will decide on further measures depending on price developments.
Croatia is far from the only European country that has decided to help its citizens deal with the effects of high fuel prices. For example, Hungary, Poland, Germany and the Czech Republic have introduced aid, either in the form of price caps or a reduction in fuel taxes. The effect of the reduced tax introduced by the Czechia, however, soon faded due to the continuing rise in prices.