BMW damaged by thieves
| photo: Mettmann Police Headquarters

"Until now, unknown perpetrators on the night of Saturday, June 4, 2022 in Hilden, a small village in the Mettmann district of the German state of North Rhine-Westphalia, in a public car park on Lindenplatz, literally 'gutted' a parked BMW and stole several thousand worth of car parts. euros, "described the Mettmann police. She now finds out the circumstances of the crime and asks potential witnesses for any information leading to the capture of the perpetrators.
"Shortly before midnight on Friday, June 3, 2022, a 22-year-old Hilden citizen parked and locked his BMW 3 Series in the Park and Ride car park on Lindenplatz in Hilden. The next morning around 5:35 a.m., two pedestrians passing by found that the car was missing a hood, bumper and other parts from the engine compartment, after which they called the police, "the police report said.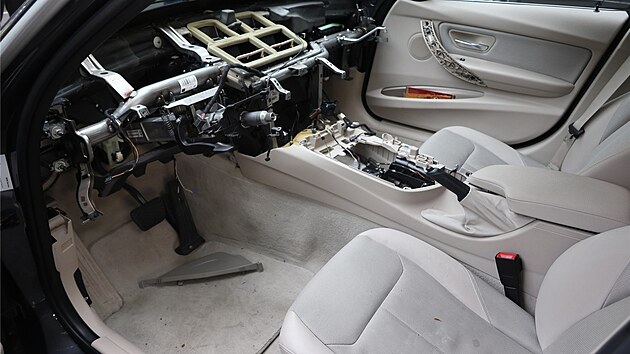 When police arrived at the scene, they found that the interior of the BMW had been completely 'gutted'. In addition to the steering wheel and navigation, the thieves completely removed all accessories, in fact the entire dashboard. The police estimate the damage at approximately 20,000 euros.
The car completely lacks the front parts, it is very difficult to know which car it is. Apparently it is the BMW 3 Series of the previous generation (F30) produced in 2011-19. So the pricing of damage is probably still very optimistic.
According to the findings so far, the police assume that the thieves cut off parts of the car from the engine compartment, probably with an angle grinder. However, according to current information, the police have no specific suspicion as to who may have committed the act.
That's why he's looking for witnesses who have seen suspicious people or cars. Police assume that the thieves had to arrive at the scene with a larger car or van.