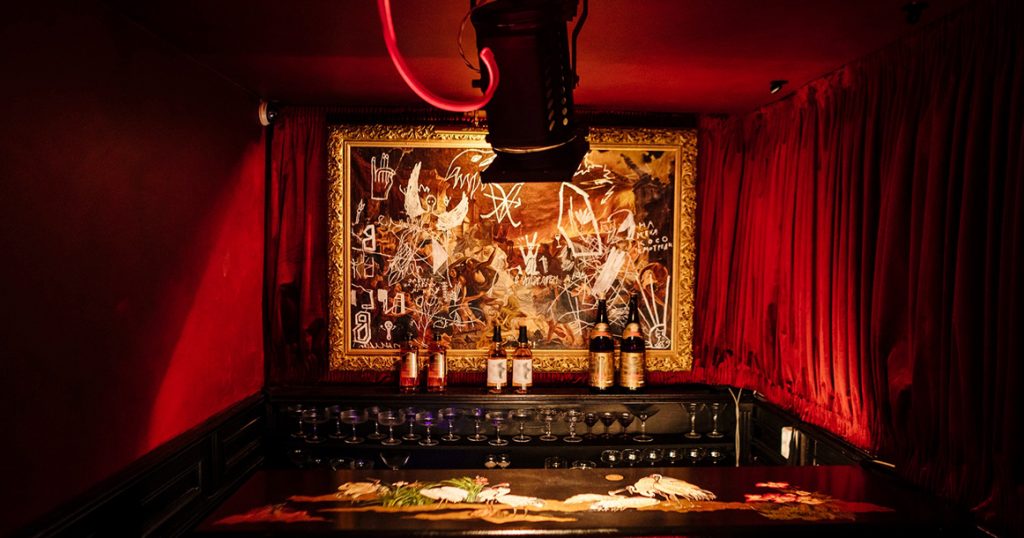 The Hitachi sake bar is hidden in the basement of the Abbey Players bar (Noviy Arbat, 5) and occupies a total of only 20 square meters. The appetizer is prepared under the guidance of chef Artem Mukhin (Bambule, Black Swan Pub, Abbey Players Pub). The bar is only open three days a week (Thursday to Saturday). The bar list has a record amount of sake in its pure form for Moscow. Cocktails with sake cost 700 rubles. a piece.
Pros:
– a specially aged door behind a screen of suits and dresses – you go in and find yourself in a small room with dim light. The music and atmosphere here is cassette (in the truest sense of the word);
– the sheet with sake is easy to study – each item is numbered (there are 36 positions in the list);
– sake No. 25 – "tsukosabotan mountain yuzu" (900 rubles) comes in an ice glass, it is easy to drink and is somewhat reminiscent of gin with lemon juice (sorry). Refreshing effect of prolonged action;
— among the appetizers, "sando with doctor's sausage" (410 rubles) was noticed — a Japanese closed sandwich with a domestic hit of all times and peoples. Bold trick, edible;
— appetizer "nine eggs" (530 rubles) is a bunch of pickled quail eggs in a brown puddle of sauce. Silky and delicately salty taste;
– interesting ("author's") cocktails with rum, martini or unfiltered sake (no matter what) are worth a try, if only for the sake of curiosity. My mango & sake cocktail, for example, was great and emotionally summery;
– the entire menu is written in small letters – a funny tribute to the recently common spelling method in instant messengers;
– bartenders are happy to answer all naive or frankly stupid questions about the assortment (we have specialists in sake, you can count on one hand).
Minuses:
– a short snack menu consists of six courses. Among them, "doshirak on chicken broth with sesame seeds and caviar" was noticed for 420 rubles. I understand everything, but I want more soups (I don't like any and fantasy doshiraki);
— "sando with shrimp" (590 rubles) is a classic Japanese sandwich with breaded shrimp cutlets. An ordinary taste of an overdried cutlet with a characteristic deep-fried smell. I understand that "the artist sees it this way", but the mentioned sando lacks an elementary sauce to "soften the corners";
– I admit that shrimp cutlets are one of the most difficult Moscow dishes of all time (they always lack something in our city and it's easier to overcook them).
Photo: courtesy of PR Pub Life Group