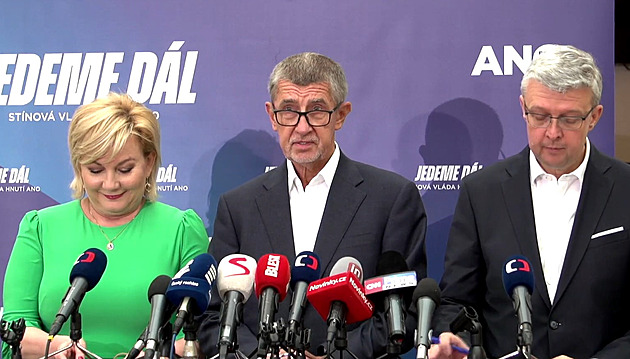 Former Prime Minister Andrej Babiš, YO chief of staff Alena Schillerová and Chamber of Deputies Karel Havlíček at a YES press conference
| photo: Facebook YES

In addition to listing the successes of the movement, Babiš's Thursday speech also contained several comments on the future. "But where I see room for improvement is, above all, working with people, both inside the movement and towards the citizens. I see three tasks in this direction, "he said.
First, he said, the YES movement should not be afraid of new blood. "I'm not the only one who thinks that many of our local and regional organizations are bony, that our members often fear the competition that new people might face," he criticized.
As a second task, he proposed the movement to return to its roots and start working with people. According to him, politics is not about closing in office, breaking off contact with the real world and going out among the citizens two months before the election. Politics is about meeting people regularly throughout the four years of his term.
"The movement must be the force that listens to the problems of the citizens and fights for them, especially at a time when traditional left-wing parties have fallen out of the House," he said. In addition, the purple government is arrogant and contemptuous, the former prime minister said.
He mentioned the election of a new party chairman as his third task. In addition, Babiš plans to change the shadow government in six months' time to give someone else a chance. "We have a lot of strong personalities, but not everyone has the potential to be a leader. I also see it in the shadow government, where we have shadow ministers active and shadow ministers less active, "he explained.
Babiš is the founder of the YES movement, which he has led since the beginning. He last defended the post of chairman at the party's national assembly in February this year, receiving 76 out of 95 delegates. He did not have an opponent.