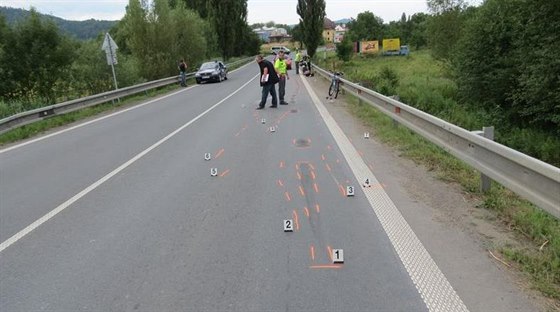 illustration frame
| photo: Police of the Czech Republic

The accident happened on the road between Frýdek-Místek and Sedliště fifteen minutes after noon.
"A 72-year-old man from Frýdek-Místek rode an e-bike towards Sedliště. Most likely he wanted to get off the road to the left, where the bike path leads. At that time, he was overtaken by two consecutive bikers. There was a conflict, the cyclist died despite the resuscitation on the spot, "said regional police spokesman René Černohorský to iDNES.cz.
One biker at the age of 41 was seriously injured and rescuers airlifted him to the University Hospital in Ostrava. The second, at the age of 43, was slightly injured and ambulances took him to the hospital in Havířov by ambulance.
Police ordered an autopsy at the cyclist. In a severely injured biker, a blood test to check if he was driving under the influence of alcohol or drugs. At the second biker, the police conducted a breath test for alcohol, which was negative.
"Everything is under the control of Frýdek-Místek traffic police officers and criminal investigators. They find out how the cyclist turns, if he really turned. They find out the course of bikers' rides, they will question witnesses. If there are other witnesses, let them turn to line 158, "added Černohorský.
The road was closed in both directions until 4 p.m.